The eighth month of the year sees Microsoft roll out some good free games.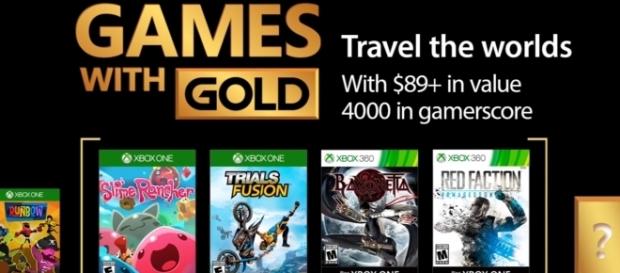 The Xbox Games With Gold for the upcoming month of August has been revealed, with the usual set up of two free Xbox 360 games and two free Xbox One games. Games you will be able to download are "Bayonetta", "Red Faction: Armageddon", "Slime Rancher" and "Trials Fusion." As usual, the two free Xbox 360 games will automatically become backwards compatible on the Xbox One, if they were not already.
'Bayonetta'
"Bayonetta", which was developed by PlatinumGames and published by Sega, originally came out for the Xbox 360 in North America back in January 2010. The game was mostly praised upon release, especially for its combat, presentation, and soundtrack, although it was controversial for some due how female protagonist Bayonetta was portrayed.
On Metacritic, the game has a 90 metascore from 86 critic reviews, garnering universal acclaim. It even won IGN UK's Game of the Year award. The game has 50 achievements worth 1,000 gamerscore and has no DLC. It will be free to purchase from August 1-15.
'Red Faction: Armageddon'
"Red Faction: Armageddon" was developed by Volition and published by THQ. The sequel to 2009's "Red Faction: Guerrilla" came out for the Xbox 360 back in June 2011. It was met with solid score upon release, getting a 71 metascore on Xbox 360 from 74 critic reviews. However, the "Armageddon" did not sell, with it being considered a commercial failure by THQ. The base game has 48 achievements, with an addition 10 being added from the "Path to War" DLC ($6.99) for a total of 1,250 gamerscore. The game will be free to purchase from August 16-31.
'Slime Rancher'
"Slime Rancher" is being developed by Monomi Park and has been in game preview on Xbox One since January 2016. The game releases on August 1st, so it will be spending its first month as a free to download games until the 31st. It has received overwhelmingly positive reviews on Steam, with 11,048/11,520 reviews being positive. It is a first-person, open-world game in which the player must build their ranch and raise various adorable looking slime creatures.
'Trials Fusion'
"Trials Fusion" was developed by RedLynx and published by Ubisoft. The game came out on the Xbox One and 360 back in April 2014. It was the fifth game in the Trials series and the successor to 2012's acclaimed "Trials Evolution." "Fusion" received generally positive reviews, getting an 80 metascore from 28 critic reviews. The base game only has 16 achievements but has a total of 51 for 2,750 gamerscore when accounting for DLC. There are six total DLCs worth $30 or a $20 season pass that can be purchased. The game will be free to download from August 16 until September 15th.
Click to read more
and watch the video
or