'Red Dead Redemption 2' release window 'doesn't matter,' stocks plummet anyway
Stocks of Rockstar Games' parent company Take-Two recently saw a slight drop following the announcement of delay.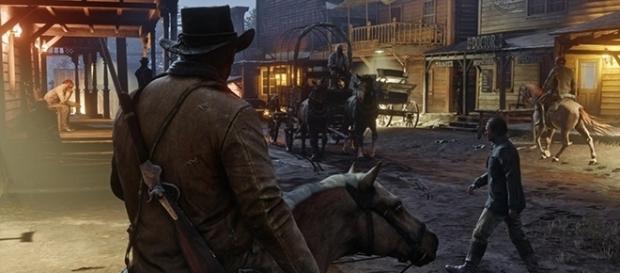 A surprising announcement for "#Red Dead Redemption 2" arrived via #Rockstar Games earlier this week when they admitted that the upcoming game, which is due out this Fall, will see a release date sometime in Spring 2018 instead.
The move was explained by Rockstar Games' Strauss Zelnick, who said that while there are no specific issues in the development of the game, they did want to give the team more time to deliver the game, which is slated to hit PlayStation 4 and Xbox One.
As per Zelnick, "We are building a new game from the ground up for the first time for new-generation consoles. And the pressure that we put on ourselves to deliver excellence and to delight consumers is extraordinary."
Rockstar Games backs up Take-Two in their decision to delay the game
Zelnick also explained that they "support the label's decision emphatically" to reschedule the release of "Red Dead Redemption 2" to Spring 2018.
As per Gamespot, the game is set to be released during the 2019 fiscal year of Take-Two, meaning it may hit retailers in April or May.
Also, Zelnick said that they're confident that the decision to delay the game is one that will eventually prove "to be wise...creatively and artistically, economically as well."
Take-Two stocks drop following announcement of delay
Interestingly, the effects of such a decision have been felt by Take-Two almost immediately, as the shares of the company have seen a drop following the announcement. As per VG247, there was a 9% drop in stock price following after the "Red Dead Redemption 2" release date delay was announced. The stocks of the company saw a decrease from $69.04 to $61.75. The initial drop may not seem like a big deal, however, as it is expected to rise in the coming days or weeks.
Take-Two thinks the release window doesn't matter
While most games wait for a release date around the holidays or the Fall season, some bank on the summer season to meet higher sales. However, Take-Two's Strauss Zelnick shared that these release windows no longer matter to games such as "Red Dead Redemption 2."
As per Gamespot, he explained how the game's predecessor was released in May went on to ship over 15 million units, and how he's banking on the content of the game to attract players to purchase it. He explained, "Consumers are consuming entertainment year-round now; they don't stop in the summer months. We believe that if you give people an extraordinary experience, they will show up for it." The game will arrive in PlayStation 4 and Xbox One sometime in Spring 2018. #Take Two