Watch the video of the news article
Don't miss our Facebook page!
Like Blasting News page on Facebook: we will keep you updated with all the latest news.
Everything is almost ready for your trip to Egypt: You bought your tickets, got yourself informed about the sights, decided where to stay, and which places to visit, but there is still something to do. In the next days, you are traveling to a foreign country and don't know anything about Egyptian food. In the next paragraphs, however, you'll learn everything you must know, before leaving: Which are their best traditional dishes, their ingredients and their cost, and more.
1. Falafel (or Felafel)
Pronunciation: [faˈlaːfɪl]
Type: chickpeas dish
Basic ingredients: chickpeas, onion, garlic, parsley, coriander, cumin, flour
Price: 1 – 3 LE
*USD (0.17 – 0.50) or EUR (0.14 – 0.43)
A Falafel is a deep-fried ball, doughnut or patty made from ground chickpeas, fava beans, or both.
2. Hawawshi (or Hawwaoshi)
Pronunciation: [ħæˈwæwʃi]]
Type: meat dish
Basic ingredients: meat (minced), onions, pepper, parsley, hot peppers or chilies (optionally)
Price: 6 LE
*USD (about 1.00) or EUR (0.86)
A Hawawshi is a turnover pastry filled with minced meat marinated in onions, pepper, parsley and sometimes hot peppers or chilies.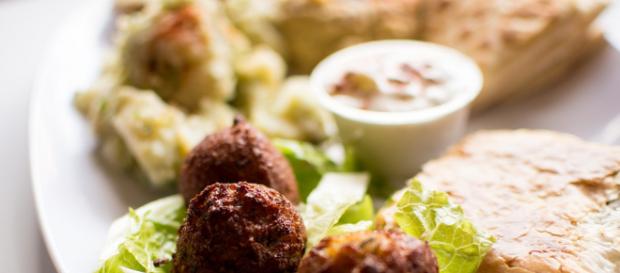 3. Kushari (or Kusari)
Pronunciation: [ˈkoʃæɾi]
Type: mixed-rice dish
Basic ingredients: rice, lentils, macaroni, tomato sauce, vegetable oil, onions, cumin
Price: 5 – 10 LE
*USD (0.84 – 1.68) or EUR (0.72 – 1.44)
Kushari is an Egyptian dish originally made in the 19th century, from rice, macaroni and lentils mixed together, topped with a spiced tomato sauce, and garlic vinegar, and garnished with chickpeas and crispy fried onions. A sprinkling of garlic juice, or garlic vinegar, and hot sauce are optional.
4. Egyptian Shawarma
Pronunciation: [ʃəˈwɔːmə]
Type: meat dish
Basic ingredients: meat, pita or wrap bread, chopped or shredded vegetables, pickles, condiments
Price: 7 LE
*USD (about 1.18) or EUR (about 1.01)
This is a popular sandwich of shredded beef, lamb or chicken meat, usually rolled in pita bread with tahini sauce. This is a relatively recent import from Levantine cuisine, possibly brought by Lebanese or Palestinian immigrants. It has since become a firm part of the Egyptian culinary landscape.
5. Kofta Kebabs (or Kobabs)
Pronunciation: [ˈkɑːftə kəˈbæb]
Type: meat dish
Basic ingredients: meat (minced), onion, parsley, bread, pepper, cardamom, sumac, nutmeg, paprika
Price: 13.50 LE
*USD (about 2.27) or EUR (about 1.95)
Usually, this is chopped and minced lamb meat on skewers grilled over charcoal.
Egyptian food is cheap but tasty
Egyptian food is quite cheap by European standards but has the range of foodstuffs have nothing to make other countries jealous.
Egyptian dishes may not cost you a lot, but they are equally as delicious and nutritious as those dishes served in European countries.
Click to read more
and watch the video