Drew Barrymore debuts weight loss on zombie 'Santa Clarita Diet' at Golden Globes
Netflix noir comedy 'The Santa Clarita Diet' keeps Drew Barrymore in shape, and Golden Globes prove zombies can have their flesh and eat it too.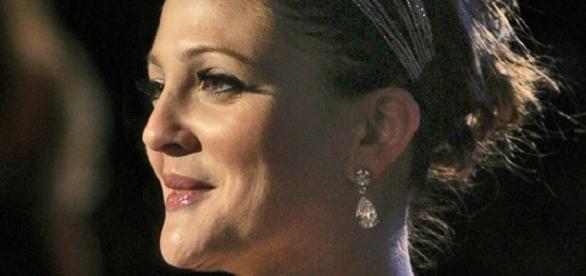 Drew Barrymore cut quite a figure on the 74th Golden Globe red carpet. And her noted weight loss proves that zombies can have their pound of flesh and eat it too. The actress stars in a new Netflix comedy noir "The Santa Clarita Diet" in which she plays a fabulously funny flesh-eater. On a serious note, the CoverGirl model discussed her method for losing pregnancy weight gain
Drew Barrymore and the zombie diet
Netflix is feeding the zombie frenzy with "The Santa Clarita Diet" which also stars Timothy Olyphant. It has notes of "The Addams Family," "Sweeney Todd," and "50 Shades Darker." It should sate comedy horror lovers' bloodlust for a time.
Show trailers sound like infomercials for a real diet, however, the only thing on the menu is flesh, and not of the usual kind. It begs tongue-in-cheek questions about whether zombies have to worry about obesity too. Some might, but not Barrymore's character--she can eat "whoever" she wants. She adds that some foods deserve to be eaten, which presumably gives them caloric immunity.
Drew Barrymore's pragmatic post-baby diet
It's not all zombies and people cakes for Drew. "The Wedding Singer" star takes pregnancy weight gain seriously, but weight loss she takes with a grain of salt. Drew's approach to shedding pounds after birth is simple. Time in should equal time out--it took nine months to grow the baby and it should take nine months to take off what pregnancy left behind. Barrymore doesn't buy into the race to pre-baby bikini body.
The months after childbirth aren't the time for rigid dieting or calorie counting.
Drew Barrymore struggles with more than weight
Barrymore is the original child star (with all the drama that that entails. Her autobiography "Little Girl Lost" paints a startling picture of Hollywood life from the perspective of a kid in a famous acting family. It's almost as if the scion of the Barrymore family set out to outdo her already chaotic childhood. She began smoking at 9, drinking at 11, using pot at 12, and cocaine by 13. She attempted suicide and did time in a psych hospital by 14. Drew moved out and had her own apartment at 15. She posed nude and had plastic surgery all before her 18th birthday. She was married, divorced, and in and out of rehab by 19. All this makes the warmth of Drew's acting even more poignant. #DrewBarrymore #SantaClaritaDiet #Weightloss