LG V30's camera capabilities showcased in an in-depth video preview
The camera capabilities of LG V30 will make its user a better photographer.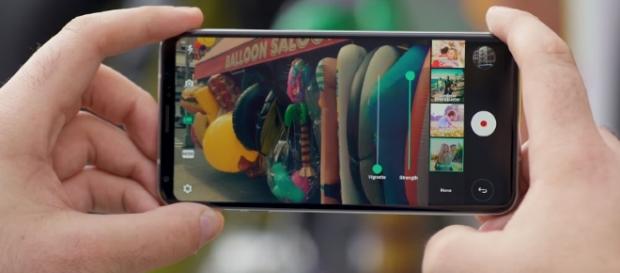 LG unleashed an in-depth video preview of its LG V30 smartphone's user interface (UI). The video appears to outline all the software features the tech company managed to pre-load onto its new mobile device. The video showcased LG V30's camera capabilities and shortcuts, among others.
The company's latest trailer for its LG V30 showed off the mobile device's native support for Graphy. The video also showcased the smartphone's capability of easily generating GIF animations as well as video slideshows. The latest promotional video exhibited the new Floating Bar feature of the device. This particular feature comes along with the capture and draw tools, which include the GIF maker, GSM Arena reported.
Digital Trends pointed out that the main feature in LG V30's camera front is the Cine Video mode. At first, the mode appears to be a collection of filters, but the Cine Video mode actually has a lot to offer. This mode in the smartphone features color accuracy as well as a wider dynamic range, which will improve photos and videos.
The Cine Video Mode also features Point Zoom and Cine Effect that allows LG V30 owners to make high-quality videos. The Point Zoom contains a zoom slider that allows users to enlarge a photo and transfer it to another part.
Smartphones' specs
The LG V30 will feature a 6-inch OLED FullVision Display with 2,880 x 1,440 pixel resolution. The mobile device boasts an aspect ratio of 18:9, which will make it taller compared to most handsets on the market.
The mobile device also comes along with slim bezels.
The smartphone features a 4GB of RAM and a 64GB of internal storage, but users can boost the built-in storage up to 128GB if they want more. The smartphone will arrive with a 3,300 mAh battery and Android 7.1.2 Nougat operating system out of the box.
The LG V30 features an IP68 certification for dust and water resistance. The device will also have a wireless charging capability, a 3.5 mm headphone jack and a unique Digital-to-Analog Converter (DAC).
Price of the device
Although the company has yet to announce the handset's pre-orders and specific release date, all major smartphone carriers in the U.S. have already confirmed they will stock the handset this fall.
Also, even though the tech giant has yet to reveal LG V30's official pricing details, reports are claiming that the smartphone might have a $749.99 price tag in the United States.
Aside from the United States, the device is also expected to make its way to Australia, Canada, and Europe as well as select Asian markets.
Click to read more
and watch the video
or