Striker Entertainment licensing 'We Happy Few'
Striker Entertainment is looking to license quality merchandise for 'We Happy Few'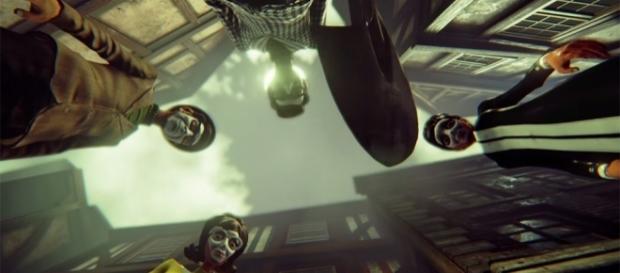 Compulsion Games has enlisted Striker Entertainment to act as the licensing agent for their upcoming horror game, "We Happy Few." This partnership will make Striker in charge of licensing merchandise for the game.
Saint Crispian's Day
"We Happy Few" is a Survival Horror Game which takes place in a cheerful retro-futuristic dystopia called 'Wellington Wells.' It's a colorful Orwellian society where citizens (or 'wellies' as they're called) are forced to take hallucinogenic drugs called 'joy' which makes them happy and represses their bad feelings. Players take on the role of a man named Arthur Hastings, a former newspaper clerk who has decided not to take his joy.
When Arthur finally sees what his world is actually like without his joy, he realizes that things are not as happy as his fellow wellies believe. Branded as a 'downer,' Arthur is now on the run from the law.
"We Happy Few" is a survival horror game with some roguelike elements. Gameplay takes place from a first person perspective and involves managing Arthur's strength, hunger, and stamina. Every decision has its risk. Exploration is a useful method to find rations and supplies, but if players are caught not taking their joy by the populace, they'll be immediately noticed by the police and attacked. Players can avoid this by taking their joy and acting normal to avoid suspicion, but taking too much joy can cause them to overdose.
Welly well well
'We happy Few' utilizes a colorful 60's art direction mixed with a heavy dose of social and political satire.
The atmosphere and populace of Wellington Wells will feel very familiar to anyone who's enjoyed the 1985 Terry Gilliam classic,"Brazil,"or the 60's cult British TV series, "The Prisoner." The name of the town even evokes the classic Droog phrase "Welly well well" from "A Clockwork Orange."
A joyful partnership
The developer of the game, Compulsion Games, is a Canadian independent developer based in Montreal. Gamers might be familiar with their previous work such as the platformer, "Contrast." Their licensing agent, Striker Entertainment, is an agency located in Los Angeles, California. Both Compulsion Games and Striker Entertainment have expressed enthusiasm over this partnership. Compulsion says, "Striker is one of those rare groups that instantly understood why the community has been raving about We Happy Few, and saw its potential at an early age." Sriker is looking towards companies like McFarlane Toys and Spirit Halloween to produce merchandise such as action figures, costumes, other goods.
"We Happy Few's" final release date has yet to be announced, but it's still available for Steam Early Access, Microsoft Preview, and GOG.com.
Click to read more
and watch the video
or