Gary Sanchez likely heading to disabled list for New York Yankees after June 24 injury
New York Yankees catcher Gary Sanchez was injured while running to first in a June 24 game.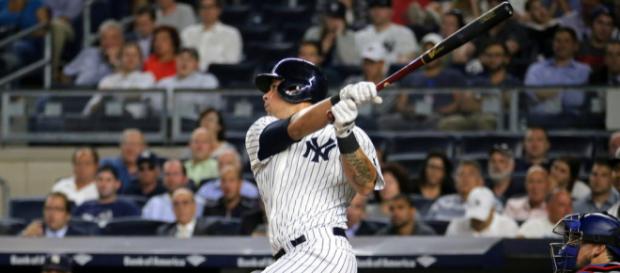 New York Yankees starting catcher Gary Sanchez was injured during the team's June 24 game against the Tampa Bay Rays. Sanchez hurt himself while running to first base, trying to beat out a double play in the 10th inning. He was escorted off the field after being checked on by Yankees manager Aaron Boone and trainer Steve Donohue.
Per ESPN, the extent of his injury is unknown but is believed to be one to his right hip or groin abductor that will land him on the disabled list. Boone stated that Sanchez will be undergoing an MRI on his hip and groin on June 25.
Sanchez's 2018 performance
After the game, Sanchez, through an interpreter, said while the injury is "the way baseball is sometimes," he hoped it would not keep him out of action for long.
Through the first three months of 2018, Sanchez has struggled at the plate, batting just .194, with a .292 on-base percentage and .441 slugging percentage. This is a significant decrease compared to his short 2016 campaign — where he earned AL Rookie of the Year honors — and the 2017 season, where he was an All-Star and earned a Silver Slugger award.
To his credit, Sanchez has 14 home runs and 41 RBIs on the year thus far. He is also placed second in the most recent update to the All-Star fan vote catcher rankings. Leading the voting is Rays catcher Wilson Ramos.
Roster moves
Sanchez was replaced by Austin Romine in the bottom of the 10th of Sunday's game. Due to Sanchez's injury, Romine will now be the everyday starter, while Kyle Higashioka is expected to be called up from the Triple-A Scranton/Wilkes-Barre RailRiders. Higashioka is the only primary catcher left on the 40-man roster — though Ronald Torreyes, also in Triple-A, has previously been given emergency catcher status.
Through 27 games played this year for the Bronx Bombers, Romine holds a .309 batting average, .374 on-base percentage, and .531 slugging percentage. He has four home runs and 20 RBIs to his credit. Some fans have called for Romine to start in place of Sanchez because of the latter's offensive struggles. In 51 games played with Scranton-Wilkes Barre, Higashioka is batting just .191 with five home runs and 21 RBIs.
Yankees in 2018
Despite cold streaks at the plate from the likes of Sanchez and outfielder Giancarlo Stanton — given to the team by the Miami Marlins in a trade this past off-season — the Yankees hold the best record in the MLB through June 24 at 50-25.
But on Sunday, the Yankees fell to the Rays in extra innings by a score of 7-6. This marked the first time New York failed to win or evenly split a series since taking just one of three against the Texas Rangers back on May 21-23. The June 24 game also marked the first time the Yanks were swept in a 2018 series, as well as losing for the first time in walk-off fashion this year.
This news article has been verified through:
http://www.espn.com/mlb/story/_/id/23897647/gary-sanchez-new-york-yankees-likely-go-disabled-list
https://www.thescore.com/mlb/news/1562163
Click to read more
You will watch a video to read the news
or