Top 5 moments from MLB's Opening Day
The 2018 baseball season is underway and it was started with a bang on the first pitch.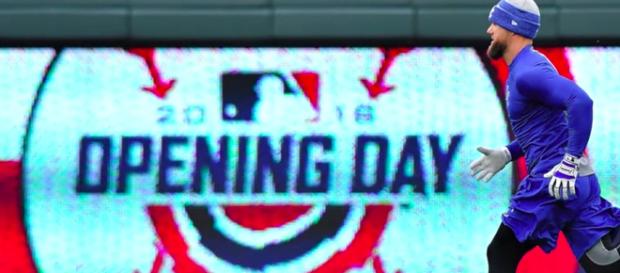 The Major League Baseball season has officially started in 2018. Each of the 30 MLB teams was slated to start their season on the same day since 1968. Back in 1968, there were only 20 franchises. Nonetheless, there were still rainouts on day one. Along with those came ceremonies, an abundance of home runs, some firsts for players in new places, and much more.
Below is presented Major League Baseball's Top 5 moments that happened on the first day of the new 162-game season.
5. Red Sox Eduardo Nuñez hits inside-the-park home run
This is not the first inside-the-parker for Nuñez.
Nuñez came to the plate in the second inning in the opening game for the Red Sox and Tampa Bay Rays. Nuñez hit a ball toward left-center field when Kevin Kiermaier and Carlos Gomez, nearly colliding, let the baseball go past and nearly all the way to the outfield wall. Nuñez speed took him all the way around third and sliding into home for a 3-0 Boston lead. The play entailed the perfect ingredients for a play like that.
First homer of 2018, just the way you drew it up. 😉 pic.twitter.com/8QawD06uwe

— Red Sox (@RedSox) March 29, 2018
Nuñez is the first Boston player to hit an inside-the-park home run on Opening Day since Hall of Famer Carl Yastrzemski
Nuñez hit his first inside-the-park home run in 2016 when he was a member of the Minnesota Twins.
4. Giancarlo Stanton hits two home runs in Yankee debut
Baseball fans should be excited and not surprised that the 2017 home run leader wasted no time putting his name on the New York Yankee's scorecard with a homer. In a 6-1 Yankee win, Stanton belted not just one home run, but two. His home run in the top of the first innings off of J.A. Happ gave the Yankees a 2-0 lead. He hit a double in his third at-bat before launching his second home run, a solo blast, in the ninth inning. According to StatCast, it was the hardest hit home run in Rogers Centre history.
Outta There x2 👋✌️ pic.twitter.com/Ct2AnDyDN5

— New York Yankees (@Yankees) March 29, 2018
Stanton went 3-for-5 with two home runs and four RBI's.
Stanton is one of three players to have a multi-homer game on Opening Day 2018.
3. Cubs' Ian Happ smashed first pitch of the 2018 season
Ian Happ got the Cubs' and the MLB season off to the most exciting start any fan could think of. He took Miami Marlins' pitcher Jose Urena's first pitch of the game and sent it to the stands into the right-field bleachers of Marlins Park.
Let's settle in and enjoy the first pitch of the 2018 @MLB seaso-- pic.twitter.com/VdNov3BeTx

— Chicago Cubs (@Cubs) March 29, 2018
Derek Jeter looked on in his first Opening Day as Marlins owner.
Happ told the media that he was thinking about the first-pitch being a fastball, and he was dead on. The home run was part of a three-run first inning effort for the Cubs. The Marlins came back and chased John Lester, but Chicago prevailed winning the game 8-4.
Happ had seven home runs in Spring Training, five of them leading off the game, according to ESPN.
2. Chicago White Sox go for six home runs on Opening Day
Chicago tied a major league record with six home runs in an Opening Day game. The only other team to complete the same feat was the 1988 New York Mets. Of course, with that, the White Sox now hold the record for most home runs on an Opening Day for an American League team. First baseman Jose Abreu had one home run, shortstop Tim Anderson had two homers, but designated hitter, Matt Davidson, was the number one star of the game with three line-drive blasts to left field.
ICYMI: @matt_davidson24 hit three homers and drove in five runs on #OpeningDay to top the Royals, 14-7! pic.twitter.com/AD7b4CFm3x

— Chicago White Sox (@whitesox) March 30, 2018
After being held to no runs in the first three innings of the game by Kansas City Royals starter Danny Duffy, the Sox reset and came back with five runs in the fourth inning. Chicago went on to win the game 14-7.
Davidson is one of four other players in MLB history to hit three home runs on an Opening Day. (George Bell '88, Tuffy Rhodes '94, and Dmitri Young '08).
1. Roy Halladay number retirement ceremony
On this Opening Day for the Toronto Blue Jays, they did something a little bit different. No ceremonial first pitch, just some family, some friends, and former teammates and coaches to honor the late Roy Halladay in a retirement ceremony.
The @BlueJays retired the late Roy Halladay's number before today's Opening Day game. pic.twitter.com/RTVQrpyViF

— FOX Sports: MLB (@MLBONFOX) March 29, 2018
Halladay's sons placed a baseball on the mound to represent their late father. They were gifted, by Manager John Gibbons, their father's jersey.
Halladay died when he crashed his small plane off the Florida Gulf Coast in November. He is remembered by his wife and two sons.
The Blue Jays will wear a No. 32 patch on their sleeve this season in commemoration.
Halladay played 16 years in the majors, twelve with Toronto. He never won a World Series in his time with the Blue Jays or the Philadelphia Phillies, but he meant the world to the fans.
Click to read more
You will watch a video to read the news
or