Celtics defeat the Pistons 91-81 led by Al Horford's 18 points
Celtics limit Andre Drummond to six points and 15 rebounds. Kyrie Irving scores 16 points and three assists.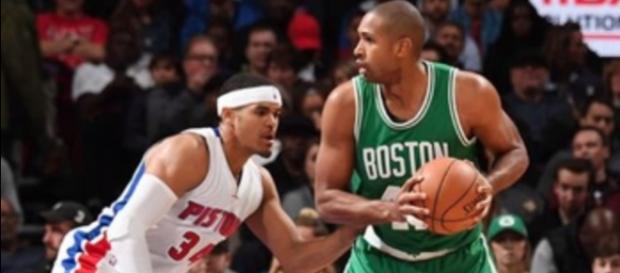 The Celtics paid a visit to Detroit's new basketball arena coming off a loss in San Antonio. The Pistons were looking to snap a five-game losing streak against the Celtics, a team they had beat two weeks ago in TD Garden. The Pistons' ranking in the Eastern Conference had slipped from second to sixth. Meanwhile, the Celtics were still at the top of the East with a 22-5 record.
In the two teams' previous matchup, in which the Celtics were out-hustled 118-108, Kyrie Irving scored 18 points, which was below his 24 PPG average.
Marcus Smart had the team high with 23 points. Andre Drummond of the Pistons had a monster game with 26 points and 22 rebounds. Tobias Harris chipped in with 31 points of his own.
Baynes the x-factor against Drummond
In this game, the Celtics needed a more physical mindset in the front court. Marcus Morris did not play because of knee issues, so Jayson Tatum played a larger role as a starter. Coach Brad Stevens also started Aron Baynes and gave him more minutes, which played a huge part in containing Drummond.
Kyrie Irving also had to get away from Avery Bradley's pestering defense.
This time around the Celtics limited Drummond to only six points and 15 rebounds. Tobias Harris had a team high of 19 points along with eight rebounds, one assist, and one steal.
Irving started the game aggressive, forcing his way into the paint and scoring easy layups. This was Irving's first game without the protective mask since injuring his nose on November 10 against the Charlotte Hornets. He finished the game with 16 points, three rebounds, and three assists.
After having an off game against the Spurs, Al Horford bounced back and contributed a team high 18 points, nine rebounds, and six assists. Hopefully he's putting those trade rumors to rest. Oh, and Jaylen Brown did the usual Jaylen Brown dunks.
Jaylen Brown 🔨🔨🔨#Celtics rewind presented by @NissanUSA pic.twitter.com/dJvHjvkVLN

— Celtics on NBCSB (@NBCSCeltics) December 10, 2017
Celtics and Pistons went back and forth
After going on a 22-5 run during the first quarter, the Celtics cooled down and were scoreless for a long stretch during the second quarter.
However, they still had a manageable lead at halftime (44-37) despite their shooting woes. The Celtics bigs were able to limit Drummond to 0 points and only 5 rebounds during the first half. Ex-Celtic Avery Bradley was hot early with a team high of 12 points going into halftime.
After the Celtics started off hot during the second half, the Pistons climbed back within reach heading into the fourth quarter. The energetic Ish Smith from the Pistons' second unit spurred a comeback. Smith ended with 11 points and had the highest plus/minus (+12) of any Piston player.
However, Smith's efforts weren't enough to beat the Celtics' fourth quarter firepower. The Celtics held on to win 91-81. Boston will visit Detroit again on February 23, 2018 to finish off the series.
Celtics have a busy week ahead
The Celtics travel to Chicago to take on the Bulls on Monday, December 11. Then they go home on Wednesday to face the Denver Nuggets. They have another back-to-back this week, facing the Utah Jazz at home on Friday, December 15, and then travel to Memphis to battle the Grizzlies on Saturday.
Click to read more
You will watch a video to read the news
or