The college football playoff rankings offer us a chaos scenario
For those of us who want an eight team college football playoff format, we should be rooting for this potential perfect storm chaos scenario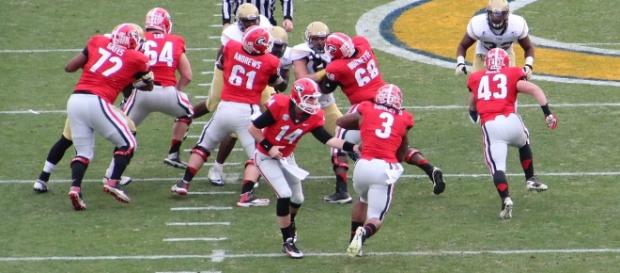 The striking thing about the release of the College Football Playoff rankings is that it offers us a possible #Perfect Storm of heavenly chaos. The key to this chaos isn't that the possible list of final four contenders goes 13 deep, that situation will indeed get all sorted out in due course. More teams getting eliminated over the next few weeks – but rather that we may get two teams from the same conference, the SEC's Alabama and Georgia, and an independent, Notre Dame, leaving out not just one power conference from the playoff mix but three.
Alabama, Georgia, and Notre Dame
What's so tantalizing about this scenario is that unlike past possible chaos scenarios, this chaos scenario isn't just possible but probable.
Alabama and Georgia are clearly the class of an otherwise down SEC this year. Alabama still must play LSU, Mississippi State, Mercer, and Auburn, and Georgia still has South Carolina, Auburn, Kentucky, and Georgia Tech, and while these match-ups certainly aren't easy games to navigate (excepting Mercer!), Alabama and Georgia should be heavily favored in these games. Notre Dame has an even more difficult road with remaining games against Wake Forest, Miami Fl, Navy, and Stanford, but here too Notre Dame will be a favorite in these games. If Notre Dame wins out and Alabama and Georgia go into the SEC title game unbeaten, meaning their lone loss will be to the other, then it will be very difficult for the #college football Playoff committee to not move all three of these teams into the College Football Playoffs.
Chaos and controversy
If this scenario ensues, the final slot will go to just one other conference champion, leaving out the other three conference champs. If we extend this potential chaos scenario to one loss champions, say Ohio State (Big Ten), Clemson (ACC), Washington (Pac-12) and one of either Oklahoma, Oklahoma State, or TCU (Big 12). Then the choice for the final slot in the College Football Playoffs will be hotly debated and inevitably controversial.
An egalitarian playoff scenario
The deeper implication of such a scenario is this: All of us who want to see an eight-team playoff should be rooting for just such a scenario since it is such a scenario where the beginning impetus for an eight-team playoff will especially rev up. For those of us who want to see an eight-team playoff, the reason for such an expansion seems like a no-brainer. A format that would automatically get all the conference champs in and still leave room for three at-large bids, which of course would include independent Notre Dame and the best "group of five" team, if they are ranked high enough.
In addition to getting in the conference champs, which in any other sport is automatic, such an expansion would open the field to G5 teams that likely will otherwise never get a shot at the College Football Playoffs. Not to mention that non-power teams – teams such as Vanderbilt, Washington State, etc., teams that likely will never get a shot at the playoffs if it remains at just four, will have a better shot at getting in.
Late blooming teams
What would also make such an expansion so exciting, is that we would also get the late bloomers into the mix, which, this year, would possibly include the two hottest teams in the field right now, Arizona (and who wouldn't want to see what a Khalil Tate could do against juggernaut teams such as Alabama) and Iowa State.
An even more exciting regular season
I would just add this final reason for why an eight-team playoff would be so good for college football: As we get closer to the end of the season, our concentration largely gets focused on the teams in the mix for the final four. If we expanded the playoffs to eight teams, more teams would be in the mix for the eight slots, and thus more games would matter. That's not even mentioning that our interest in the conference races would be even more accentuated, especially for the conferences in years that seem to be "down" and thus relegated to a non-factor, which is the case for the Pac-12 this year. If we had an eight-team expansion, our attention would be riveted to the Pac-12, if for no other reason than Arizona would be more than an interesting footnote to the season. I know that some people argue that we should stay with just four teams because of the invigorating debate that ensues, and while I agree that this debate is fun, the loss of it would be more than offset by the inclusion of so many more possible teams into the mix. The intensified conference races, and a possible inclusion of bona fide "Cinderella" teams into the playoffs, which is going to be rare for our present four-team playoff format. #college football playoff