New York Rangers show signs of life in OT victory over Tampa Bay Lightning
J.T. Miller scored in OT and The Rangers put together a full 60 minute effort.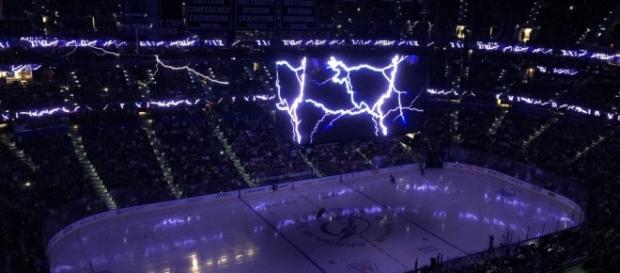 The young 2017-18 NHL season hasn't been kind to the New York Rangers. While not even the most optimistic NYR fans expected the Rangers to be the best team in the NHL, no one quite predicted just how bad they have been so far; posting a disappointing 4-7-2 record going into last nights matchup against the league-leading Tampa Bay Lightning.
The Rangers supposedly improved their defense during the offseason; signing Brendan Smith and Kevin Shattenkirk as well as acquiring Anthony DeAngelo. The defense has been anything but a strength one month into the season. The Rangers have looked sloppy, disorganized, and confused in their own end. Losing and New York City don't mesh well and as a result trade rumors and whispers of head coach Alain Vigneault's firing have swirled.
After beating the surprisingly hot Vegas Golden Knights in comeback fashion on Halloween night, the Rangers took a trip down to Tampa Bay to face one of the hottest teams in the NHL - the Lightning.
Old rivals bring out the best in NYR
Ever since Tampa Bay and New York faced off in the 2015 Eastern Conference Final, every meeting between these two teams has felt intense. Rivalries are born in the playoffs and it is apparent these two teams do not like each other. Perhaps it is that intensity that helped the NYR find their game. This was absolutely the most complete game the Rangers have played so far this season. The newly reunited "KZB" line of Chris Kreider, Mika Zibanejad, and Pavel Buchnevich connected a pretty passing play to put the Rangers up by one late in the first period.
Tampa Bay tied the game in the second period off a short-handed goal by Yanni Gourde. The Rangers experienced a defensive breakdown when both Kreider and Shattenkirk covered Victor Hedman on a two-on-one breakaway. NYR depth defenseman Steven Kampfer fought two times during this game, likely trying to secure a consistent starting role. After disallowed goals on both sides from Michael Grabner and Alex Killorn, the game was tied 1-1 heading into overtime. J.T. Miller secured the victory for New York with a beautiful goal to beat Tampa Bay goaltender Andrei Vasilevskiy.
Huge confidence booster for New York
While this was just one game in an 82 game season, the NYR will likely look back on this one for months to come.
After such a disappointing start to the season, most pundits and fans were beginning to wonder if the Rangers were capable of an effort like we saw in Tampa Bay on Thursday night. The NYR now know they can beat one of the best teams in the NHL and put together a full 60 minutes of hockey. That confidence is invaluable moving forward. After two periods against the Golden Knights on Halloween night this team looked like it had hit rock bottom. Now as we go into the weekend the Rangers are on a two-game winning streak and may just be able to turn this young season around.
Looking forward
Make no mistake; this Rangers team has a lot of work ahead and many issues to sort out. The defense is clearly still a work in progress with head coach AV rotating Nick Holden, Steven Kampfer, and Brendan Smith into and out of the lineup. Smith has been very underwhelming so far this season after signing a lucrative four-year contract with New York under the expectation that he would help solidify the right side D. In order for New York to really turn this season around Smith will have to find his game; Kampfer is not a long-term solution. The forward group has many questions as well; the center position is an area of weakness for the Rangers and it remains to be seen if the current group they have now can get the job done. Nonetheless, this victory over Tampa Bay was the biggest of the season so far and has no doubt helped the team immensely psychologically.
Click to read more
and watch the video
or