The Alabama Crimson Tide continue to dominate the SEC
Despite their narrow victory over Texas A&M, the Tide show no sign of weakness entering week 7.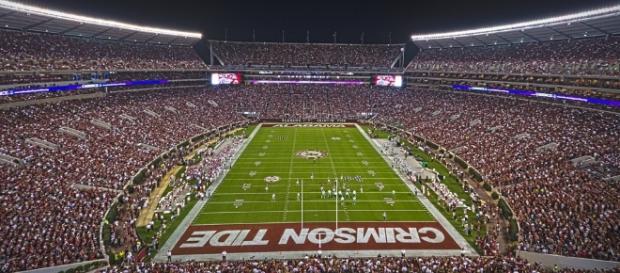 As we enter the halfway point in the season, the SEC clearly has shown signs of weakness. With only three teams in the AP top 25, it is hard to see the conference as the same powerhouse it has been in the past. Alabama has dominated every opponent up until week 6 against Texas A&M, but many would argue that the Tide have a weak schedule remaining. There is little doubt Nick Saban and his team will make it to Atlanta in December for the SEC championship game, but how will they stack up against other power 5 championship contenders?
Hurts So Good
The Alabama offense is led by sophomore quarterback Jalen Hurts and he has shown immense improvement since last year's devastating loss to Clemson in the National Championship.
Hurts has racked up over 1,300 combined yards and has 12 TD's. In addition, he has not turned the ball over at all this season. Alabama faces Arkansas this week at home and they hope to continue to dominate on the field. Arkansas only has two wins this season and neither were against power five opponents. Hurts and company should not have trouble putting the razorbacks away this Saturday and their remaining schedule looks optimistic.
What does the playoff picture look like for the Tide?
The week 7 rankings have been shaken up a bit, but Alabama has not been doubted as the number one team. The Tide have been ranked number one every week this season by the AP poll and the USA Today poll, but have dropped to second in the ESPN power rankings under Clemson. It is a little early to try and evaluate the playoff picture and many assume that Alabama will win out and maintain the number one spot.
A solid prediction can be made that Alabama will face Georgia in the #Sec Championship Game because both teams are undefeated at this point. The bulldogs have put up very solid performances and Kirby Smart has given his team a shot at the playoff.
The SEC has received a lot of heat for the lack of talent this year within the conference. Only Alabama, Georgia, and Auburn have a shot to make the playoff and that is contingent on winning the rest of their schedules including the conference championship. The #Crimson Tide have the best chance as of now to win out and make it to the playoff, but the Iron Bowl still lurks at the end of the season and Alabama needs to watch out for Auburn. There is no question that if Alabama wins out they will be placed number one in the CFP bracket, but then the question arises of what to do with the SEC championship loser. If they only have one loss and it is to the number one team overall, does that give them precedent over a different power five champion? What about a one loss SEC champion? There are still many questions that need to be answered and as we get closer to December we will find out more about the top playoff contenders. There is no doubt though that the playoff committee will have their work cut out for them when the time comes. #college football