NBA injury update on Gordon Hayward, Draymond Green, and Nikola Mirotic
Gordon Hayward, Draymond Green, and Nikola Mirotic all suffered significant injuries on Day 1 of the 2017-18 NBA season.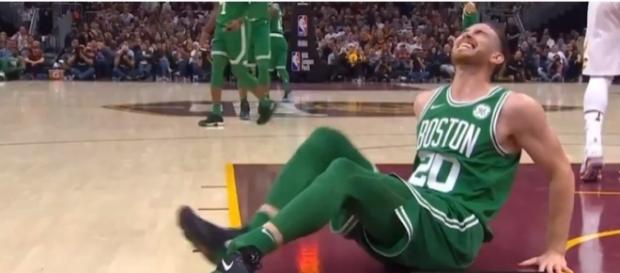 Gordon Hayward's gruesome ankle injury was easily the biggest news on the first day of the 2017-18 NBA season. However, the Boston Celtics forward wasn't the only player who succumbed to the opening day injury bug, as the Golden State Warriors' Draymond Green and Chicago Bulls' Nikola Mirotic also suffered significant injuries that could jeopardize their availability for future games.
Gordon Hayward
Hayward suffered a dislocated left ankle and a fractured tibia in his first regular season game with the Boston Celtics.
The All-Star small forward made a hard backdoor cut to catch a lob pass from Kyrie Irving, but LeBron James challenged him in mid-air. Hayward lost his balance on his way down, causing his left leg to land awkwardly on the floor. TNT play-by-play commentator Kevin Harlan initially thought Hayward had a broken leg, but a closer camera angle showed a dislocated left ankle.
Hayward was carried off the floor roughly five minutes into his Celtics career. Even before doctors revealed the extent of the damage in Hayward's left ankle, Celtics officials already expected their top free agency signee to miss at least the entire 2017-18 NBA season because of the injury.
The former Butler standout was coming off an All-Star year, averaging 21.9 points, 5.4 assists, and 4.7 rebounds in 73 games with the Utah Jazz. After seven seasons in Salt Lake City, Hayward signed a four-year, $128 million deal in the offseason to become one of the cornerstones for the Celtics.
With Hayward out for the season, the Celtics could apply for Disabled Players Exception worth $8.4 million. They can use the exception to sign a free agent or trade for a player with one year remaining on his contract until March 10.
Draymond Green
The reigning Defensive Player of the Year left in the third quarter of the Warriors-Rockets season-opener with an apparent knee injury. Green did not return to the game but he still flirted with a triple-double (nine points, 11 rebounds, and 13 assists) in 28 minutes of play.
According to Chris Haynes of ESPN, Green suffered a left knee strain, and contrary to earlier reports, the injury was a result of knee-to-knee contact. Anthony Slater of the Athletic also reported that Green had a post-game treatment on his injured knee but he seemed to be fine since he wasn't limping badly. It's still unknown if the injury will cause him to miss any games for the Warriors, but his condition is worth monitoring.
Nikola Mirotic
Shams Charania of the Vertical at Yahoo! Sports reported that Nikola Mirotic will be out indefinitely with a fractured jaw. According to the NBA insider, the injury was caused by an alleged cheap shot to the face by Chicago Bulls teammate Bobby Portis. The Chicago Bulls later confirmed that Mirotic sustained maxillary fractures and a concussion. The team is also evaluating disciplinary action against Portis.
Vincent Goodwill of NBC Sports Chicago reported that the Mirotic-Portis rivalry has been going on for three years now, and the ugly altercation was the last straw.
Click to read more
You will watch a video to read the news
or