Game 2 of the World Series was crazy
The Houston Astros managed to pull out the win over the Los Angeles Dodgers to tie it up.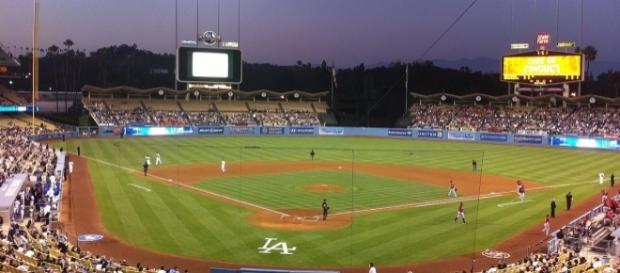 On Wednesday night, game two of the World Series took place between the Houston Astros and Los Angeles Dodgers. The Dodgers put Rich Hill on the mound hoping to finish their homestand with a decisive 2-0 lead, while the Astros started the red-hot Justin Verlander in hopes of heading back home tied at 1-1.
Hill leaves in the fifth, Verlander goes out an inning later
The Astros struck first in the top of the third inning, as Alex Bergman hit a line drive to the center-left gap that got Josh Reddick to score, giving Houston a 1-0 lead.
In the bottom of the fifth inning with two outs, Justin Verlander had been on fire, having thrown 44 pitches, four strikeouts without allowing a single hit. Naturally, this led to Joc Pederson stepping up to the plate to hit his first home run since July 26 to tie the game.
Both of Joc Pederson's postseason HR have been game-tying shots. His 2 game-tying HR are tied for most in @Dodgers postseason history. pic.twitter.com/3KnmVvYKzE

— ESPN Stats & Info (@ESPNStatsInfo) October 26, 2017
Rich Hill got pulled from the game after four innings and the team burned through relievers the rest of the game.
With two outs in the bottom of the sixth, Verlander walked Chris Taylor and then Corey Seager hit a home run on a 97 mph fastball while down 0-2 to break the tie, putting the Dodgers up 3-1.
Justin Verlander has allowed multiple HR in 3 World Series games in his career, tied with Don Drysdale for the most such games.

— ESPN Stats & Info (@ESPNStatsInfo) October 26, 2017
Corey Seager is 2nd-youngest player in Dodgers history with World Series HR. Only Pete Reiser - in 1941 WS Game 4 - was younger. pic.twitter.com/PdcsxFNWEp

— ESPN Stats & Info (@ESPNStatsInfo) October 26, 2017
The eighth and ninth innings
In the top of the eighth inning, Bergman hit the ball into the right-field corner and it ended up glancing off of the tip of Yasiel Puig's glove and into the stands for a ground rule double. This meant that pitcher Brandon Morrow had allowed an extra-base hit after only giving up three all season.
Morrow then got pulled for Kenley Jensen, who let Carlos Correa hit a single up to middle to score Bergman and cut the Dodgers to make it 3-2.
Dodgers bullpen scoreless streak snapped at 28 straight scoreless innings, an MLB record for a single postseason.

— ESPN Stats & Info (@ESPNStatsInfo) October 26, 2017
In the top of the ninth inning Jensen, who had only blown one save all season and is considered by many to be the best closer in baseball, was pitching. Plus, the Dodgers have been 98-0 this season.
Marwin Gonzalez got down 0-2 in the pitch count and then hit a home run to tie the game. It was only the third home run Jensen had ever given up in his career on a 0-2 pitch.
Entering tonight, Dodgers were 98-0 when leading after 8 innings this season (including playoffs). Only team in MLB w/out such a loss.

— ESPN Stats & Info (@ESPNStatsInfo) October 26, 2017
Marwin Gonzalez is the first visiting player with a game-tying 9th-inning homer in the World Series since Dwight Evans in G3 of the 1975 WS.

— Jon Shestakofsky (@Shesta_HOF) October 26, 2017
Extra inning baseball provides historical feats
The Dodgers failed to score in the bottom of the ninth, providing extra-inning World Series baseball. Josh Fields replaced Jensen and allowed Jose Altuve and Correa to hit home runs to give the Astros a 5-3 lead. In the bottom of the 10th inning, Ken Giles let Puig hit a home run to cut into the lead. With two outs, Logan Forsythe then got walked and moved to second after a wild pitch. Enrique Hernandez then hit a single to right, the Dodgers first non-home run hit, to score Forsythe and tie the game.
José Altuve: 1st go-ahead HR in extra innings of a World Series game since David Freese's walk-off HR in Game 6 of 2011 World Series. pic.twitter.com/aA6bFWl8h4

— ESPN Stats & Info (@ESPNStatsInfo) October 26, 2017
This is 2nd time in postseason history that a team hit back-to-back HR in extra innings (Mariners - Game 1 of the 2000 ALDS vs White Sox).

— ESPN Stats & Info (@ESPNStatsInfo) October 26, 2017
In the top of the 11th Brandon McCarthy, who had only pitched six innings since the end of July, came in. George Springer then hit a two-run homer after Cameron Maybin had hit a single to center and then stolen second to make it 7-5. With two outs in the bottom of the 11th, Charlie Culberson hit a home run off of Chris Devenski to make it 7-6. Puig then stepped up to the plate and struck out after nine pitches from Devenski to give Houston the victory.
The @astros are the first team in MLB history to hit 3 home runs in extra innings of a postseason game.

— ESPN Stats & Info (@ESPNStatsInfo) October 26, 2017
The @Astros are the first team in MLB history to homer in the 9th, 10th and 11th inning of a postseason game.

— ESPN Stats & Info (@ESPNStatsInfo) October 26, 2017
There were 5 combined extra-inning HR, the most in a postseason game. Previous record was 3 by Indians and Red Sox in Game 1 of 1995 ALDS.

— ESPN Stats & Info (@ESPNStatsInfo) October 26, 2017
crazy stat.... Before tonight, there had been 17 extra-inning home runs in World Series history. There were 5 tonight alone.

— Nick Griffith (@NickGriffithTV) October 26, 2017