Del Potro completes comeback, stuns Alexander Zverev in Shanghai
The Argentine has put together a compelling display of tennis against the current world No. 4.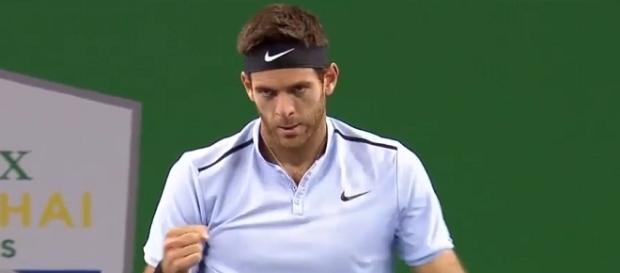 Juan Martin #del Potro, 29, seems to have found a way to keep his body in a functional mood. He is into the quarterfinals of Shanghai Rolex Masters [VIDEO] after a perfect display of tennis against the current world No. 4 #Alexander Zverev. The Argentine tennis star got past that early exit from last week in Beijing when an inspired Grigor Dimitrov knocked him out in two tight sets. Today it was his turn to press on Zverev thus forcing him to lose focus. Seeded 16th in Shanghai, he has scored the third win of the week. En route to the quarterfinals, he got past Nikoloz Basilashvili in the round of 64 while in the previous round he sailed past the NextGen star Andrey Rublev.
Edging the third seed Zverev comes as a confirmation of the upward trend.
Del Potro didn't panic although he had all the reasons to do so
Their first ever meeting on an ATP level event saw the 20-year-old German racing to an early lead after breaking del Potro's serve in the second game of the inaugural set. A genuine display of power and precision on his own serve handed the set to the top seed by 6-3 in a bit under half an hour of play. Being a set down and still trying to match the ratio between winners and unforced errors, del Potro started to settle in. The second set had no break chances at all, and it went to a tie-break where the Argentine prevailed asking for a third set to decide the tie.
The decisive act displayed an apparently deflated Alexander Zverev as the leader of the new generation lost his temper and his sharpness as well.
On the other side, del Potro delivered some tremendous defensive skills seeding the doubt even deeper on his opponent's mind. As a curiosity, Zverev's attempt to go after del Potro's backhand side had little success. Moreover, the 2009 US Open champion stunned his opponent with some down-the-line backhand winners. Eventually, Zverev melted down, and despite struggling to seal the deal, the Argentine converted the fourth match point opportunity to book a spot in the next round.
Del Potro shares draw with Roger Federer
Dominic Thiem, the fifth seed, and David Goffin, the eight seed were stunned in yesterday's session opening up the field for others. For del Potro, John Isner or Viktor Troicki comes next with Roger Federer [VIDEO] looming for the semifinals. The 36-year-old Swiss would love a rematch after losing that quarterfinal at the US Open about a month ago.
The Argentine hasn't won a single title in 2017, but that might change. The draw sees to give him an unexpected chance here in Shanghai. Moreover, the points at stake are also a great incentive. If del Potro makes it all the way he can then hope for a last-minute bid to secure a spot at the Nitto ATP Finals in London. #No 4