NBA Houston Rockets Analysis: The James Harden-Chris Paul backcourt tandem
Rockets' backcourt of James Harden and Chris Paul is better than Stephen Curry and Klay Thompson, says ESPN's RPM. But can they make it to NBA Finals?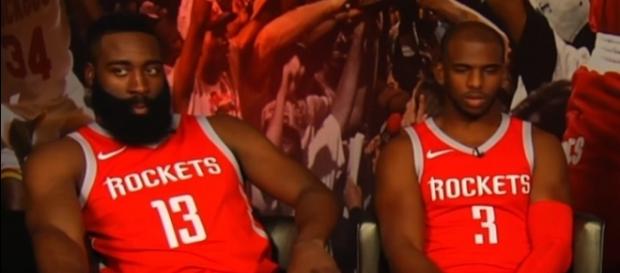 Last season saw a drop in James Harden's playing time (36.4) compared to the previous season when he led the league (38.1) in average minutes per game. It was actually the least number of playing minutes during his five years with the Houston Rockets. This can be attributed to Harden assuming the playmaking role aside from being the team's No. 1 scoring option.
Harden juggled his effort from being the Rockets' court general and main scorer all at the same time. While we saw an increase in numbers in his scoring, assists, and rebounding, it took a lot of toll on his body come playoffs. Alas, Harden can no longer carry the team and the Houston Rockets lost to the San Antonio Spurs during last season's Western Conference semifinals.
Focus on scoring
But that is about to change this coming season with the arrival of Chris Paul in Houston. With CP3 on the lineup, Harden's job will be easier – and that is to score. While some analysts think that keeping the ball away from Harden would result in lower scoring output, many basketball experts believe otherwise, even Harden himself.
During the offseason, Harden wasted no time in making himself become fit before the start of the 2017-18 NBA season. His goal is simple – become lighter and more athletic in preparation for his sliding back to his old shooting guard position.
"It's a relief,"' Harden said about getting rid of the playmaking chores. "But it's not just anybody that I'm getting off the ball giving it to. I'm giving the ball to somebody that can do the same thing I can do, even better," referring to Chris Paul, who himself led the league in assists (2008, 2009, 2014, 2015).
CP3 is not just about playmaking
But Chris Paul is not all about passing – he's an all-around player. After bagging the 2006 Rookie of the Year award, CP3, as this future Hall of Famer is fondly called by friends and fans alike, was named to the NBA All-Star a total of nine times; he was even awarded the All-Star Game MVP back in 2013.
CP3 was also named four times to the All-NBA First Team (2008, 2012–2014), thrice to the All-NBA Second Team (2009, 2015, and 2016) and once as All-NBA Third Team (2011). A six-time NBA leader in steals (2008, 2009, 2011–2014), Chris Paul was also named to the NBA All-Defensive First Team a total of seven times (2009, 2012–2017) and twice in the NBA All-Defensive Second Team (2008, 2011).
The best backcourt tandem
It's no question Stephen Curry and Klay Thompson of the Golden State Warriors have proven that they are the best backcourt tandem in the league for the past three years.
But if numbers don't lie; Harden and Paul's tandem would edge the Splash Bros. according to ESPN's Real Plus-Minus based on last season's numbers.
But would it be enough to unseat the Golden State Warriors as the King of the West? Is the James Harden-Chris Paul tandem enough to bring the Houston Rockets to the NBA Finals? How about stopping Kevin Durant and Draymond Green?
Click to read more
You will watch a video to read the news
or