New York Mets activate Juan Lagares
The outfielder is expected to join the team in Philadelphia on Thursday.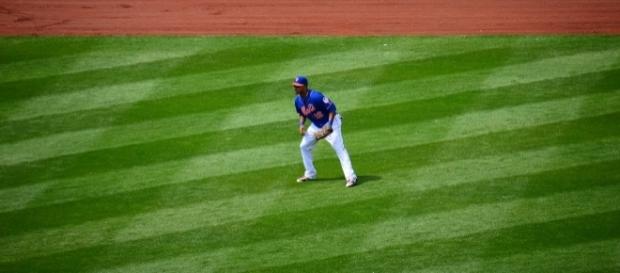 #Juan Lagares is back and right on time. The #New York Mets announced on Thursday afternoon that they were activating their outfielder from the disabled list. The timing is perfect, since the team now has a whole in their outfield the size of a former slugger. If history is any indication, Lagares won't be able to fill that hole. But he'll be able to pick up some playing time as the Mets play out the stretch of a sorry season.
The Mets get an outfielder back
Lagares has already endured two stints on the disabled list this season. A strained left oblique kept him from starting the season on time. Then, a broken left thumb two months ago left the Mets without yet another player in a season filled with every injury imaginable.
While he is being reinstated on time for Thursday's game against the Philadelphia Phillies, he is unlikely to start; instead, Lagares will likely come off the bench and provide some outfield depth.
Lagares will be taking the spot vacated by Jay Bruce. The Mets traded the slugging outfielder to the Cleveland Indians on Wednesday night for a Single-A relief pitcher, which has been considered a ridiculously bad return on the team's part. They would go a long way towards assuaging those concerns if Lagares plays well upon his return. Then again, in a season where the playoffs are virtually out of reach, it may not matter.
Lagares' lost potential
It's hard to believe that Lagares only made his debut with the Mets four years ago. Back then, he was filled with so much promise. He was never going to slug home runs, but he was able to hit for average and be a menace on the bases.
He earned a National League Player of the Week nod during his first season. After his second season, he took home a Gold Glove Award and a Fielding Bible Award. It seemed as if the sky was the limit for the Dominican Republic native.
But it wasn't meant to be. His struggles from the plate in 2015 led to the Mets acquiring Yoenis Cespedes at the trade deadline, relegating Lagares to the bench. He spent 2016 there before a sprained thumb from a diving catch - a running theme, apparently - landed him on the disabled list. It's been more of the same this season. After this season, he's making $15.5 million over the following two years before a club option kicks in - in other words, the team is playing him. He just needs to be able to stay on the field, flash his glove on the outfield, and be serviceable when he comes up to hit. #MLB