Juan Martin del Potro starts Montreal campaign with a solid win
2009 US Open champion is trying to regain at least a part of his lost fame.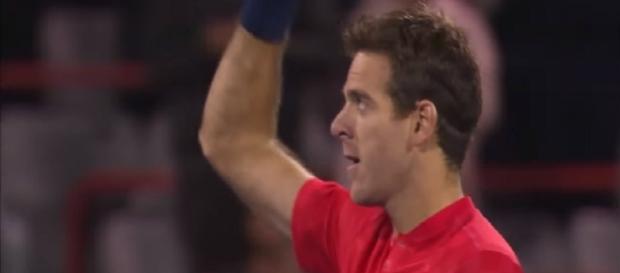 Rogers Cup in Montreal is getting in full speed engulfing some extraordinary matches already. The first round brought Juan Martin del Potro and the big American server John Isner on the same battlefield. While #del Potro is trying to get some momentum before #US Open, John Isner came in Canada after having some delightful few weeks on the ATP World Tour. Winning back-to-back titles in Newport and Atlanta made Isner a name to watch during the US Open Series. But, as it happened, his winning streak came to an end as the Argentine tennis star and 2009 Rogers Cup finalist got past Isner in two identical sets.
Del Potro could end Nadal bid for the world No. 1 spot
Ranked 31st in the world, the 28-year-old former US Open champion could impact the near future of the ATP circuit.
Still far from the top of the rankings, del Potro may cause some unrest to Rafael Nadal who seeks to return to the summit this week. The Spaniard must reach the semis of the Canadian Masters 1000 event in order to surpass the current holder Andy Murray. In the second round, del Potro will face the winner of Dennis Shapovalov (143 ATP), a wild-card entry, and Rogerio Dutra Silva (64 ATP). If he gets past the second round test, the Argentine may be on a collision course with the current world No. 2 Rafael Nadal. Their head to head stats put Nadal in front by 8-5 although del Potro has won their last meeting at the Olympics in Rio.
US Open is a big target for del Potro
Although it's hard to picture del Potro advancing to the higher stages of the tournament, he still has the game to achieve great things.
Against John Isner, he played near to perfection being so clinical in the key moments of the match. It was a tight match which del Potro won by 7-5 7-5. He didn't face a single break point on his serve. He went on breaking Isner's serve once per each set at 5-5 which was just enough to seal the deal.
If he digs deeper into the top 30, he could have a decent run at US Open, and who knows, maybe even reaching the higher stages in New York. Last year, he made it to the quarterfinals where he lost to the eventual champion Stan Wawrinka. But this year, the stage may use a player like de Potro. With Djokovic and Wawrinka out until the end of the season, and perhaps a bit of luck when the draw time comes, the former world No. 4 could add a fresh feature into the men's tennis. The current season had del Potro making a late start as part of a strategy to keep the injuries away. So far, he has been on a fluctuating mode having not so much success on tour. After beating Isner, he is 16-9 in win/ loss scoreboard. #Juan Martin