Dwayne Haskins now No. 2 on Ohio State depth chart
The quarterback arose to the backup role after an injury to Joe Burrow.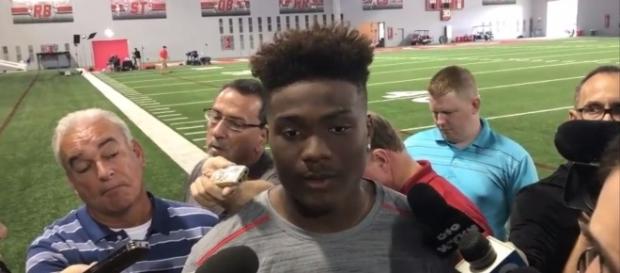 Dwyane Haskins is the next man up. He was competing to be the backup quarterback of the #Ohio State Buckeyes this season. But after an injury to the likely winner of that competition, Haskins will now be thrust into that role. Fans probably hope he never sees the field, since that would mean J.T. Barrett either suffered an injury or imploded. If he gets the call, however, the Buckeyes should be in good hands.
Ohio State depth chart in flux
The news about presumed backup Joe Burrow came to light on Wednesday morning. He has a broken bone in his right hand, an injury he suffered on Monday, and had surgery for on Tuesday. He's expected to miss the next four-to-six weeks, which encompasses almost half of the season.
That means Haskins is moving up the depth chart for Ohio State, which begins their season next Thursday at conference rival Indiana.
Barrett is still atop the depth chart and will be all season - he's the most prolific quarterback in Ohio State history. But Haskins may not be safe in the backup role while Burrow is off the field. Prized freshman quarterback Tate Martell is quickly earning the respect and praise of his coaches. He arrives in Columbus with plenty of hype and the designation of being the team's quarterback of the future. One quarterback controversy may have ended, but another one can spark at any moment.
Haskins can handle it
Haskins is entering his sophomore season in 2017. He stands at 6-foot-3 and weighs just under 200 pounds. He's considered a pro-style quarterback and has drawn some (optimistic) comparisons to former Clemson Tigers star and recent first-round draft pick Deshaun Watson.
Surely, Ohio State coach Urban Meyer would be beyond pleased if he's forced to plug in the quarterback and discovers those lofty comparisons to be even slightly accurate.
If there's one area Haskins totally lacks in, it's experience. He didn't play a single down for the Buckeyes last season; neither did Martell, obviously. Burrow, on the other hand, looked very good in limited action last season. He completed 22-of-28 passes for 226 yards and two touchdowns and no interceptions. That was good for a 169.9 quarterback rating and an 80.8 adjusted QBR. When he returns from his injury, Ohio State will hope to turn to Burrow in case of a Barrett emergency. Until then, it looks like Haskins has improved odds to enter the first huddle of his collegiate career with the Buckeyes in 2017. #college football #Dwayne Haskins