Center Marc Gasol might leave Grizzlies if team does not continue to grow
The center wants the Grizzlies to sustain the growth they achieved in the last 6-7 seasons.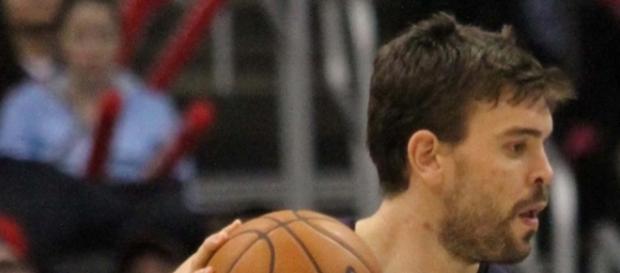 Center #Marc Gasol hinted that he may leave the #Memphis Grizzlies if the team does not continue to grow. In an interview with Spanish media outfit A la Carta, Gasol expressed his willingness to leave the only team that he has played for in the NBA. In the interview, Gasol called himself very ambitious, saying he wants Memphis to be a great franchise. The center added that he wants the team to sustain the development that it achieved in the last six to seven seasons. If that does not happen, Gasol said he will have to revisit things.
The 32-year-old Gasol lost his frontline partner Zach Randolph, who signed a two-year deal worth $24 million with the Kings after eight seasons with the Grizzlies.
Memphis is also not expected to bring back defensive specialist Tony Allen. Gasol, Randolph, and Allen were part of the Grizzlies' grit and grind squad, known for their toughness and hustle.
Gasol has played entire career with Grizzlies
Gasol was drafted 48th overall by the Los Angeles Lakers in the 2010 Draft but he was included in the trade package to Memphis for his brother Pau Gasol. Aside from Marc, the Lakers shipped Kwame Brown, Javaris Crittenton, a 2008 1st round pick, and a 2010 1st round pick for Pau. In 2015, he signed a maximum five-year deal worth $113.2 million. He has three years remaining in the deal but he can opt out after the 2018-19 season. He is scheduled to earn $22.6 million next season and $24.1 million for the 2018-19 season.
Celtics interested in Gasol
Chris Mannix of The Vertical reported that the Boston Celtics are interested in acquiring Gasol from the Grizzlies via a "ready-made rebuilding package of players and picks." Mannix based his report on his conversations with several NBA executives who think that the Celtics will go all-out in challenging the Cleveland Cavaliers in the Eastern Conference.
The Celtics recently acquired Gordon Hayward, one of the biggest names in the free-agent market, and signed him to a four-year, $128 million contract. Last season, Gasol tallied 19.5 points, 6.3 rebounds, 4.6 assists, and 1.3 blocks in 74 games. Aside from his inside presence, Gasol has emerged as a deadly outside shooter, making an average of 1.4 three-pointers per outing. The Celtics could turn into an instant threat to the Cavs' reign in the East if they get Gasol, who could join other players on the roster, including Isaiah Thomas, Al Horford, and Hayward. #Boston Celtics