Wimbledon 2017: Marin Cilic still a danger for Roger Federer
The big Croatian player has reached his first ever semifinal at Wimbledon.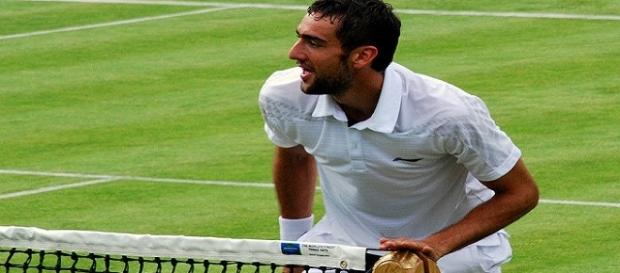 After seeing his Wimbledon bid ending in the quarterfinals stages for three years in a row, the 28-year-old Croatian #Marin Cilic eventually surpassed that milestone. He is now set to make an appearance in his first ever Wimbledon semifinal and his journey may go even further as he will face Sam Querrey for a place in the final of men's singles contest.
Cilic made it there by outpowering Gilles Muller in the quarterfinals at the end of a 5 sets encounter. For Muller, it was the second 5 setter in a row after that epic over Nadal, while Cilic finally lost a set at this Wimbledon. Reaching the quarterfinals Cilic made a perfect job and didn't drop a single set in the process.
But he would be happy with those two sets given to Muller as he eventually got access forward, in the last four stages.
Cilic was colder, sharper while Muller saw his physical strength vanishing away
Getting past #Rafael Nadal at the end of an all-in match, Giller Muller's body had to pay a price. Finding himself in another 5 sets match was the tombstone of his run at Wimbledon. At 34 years of age, he did all he could to survive Cilic's power. It was a match that had Marin Cilic serving aces at an impressive rate (33 aces) compared to only 17 from Gilles Muller' racket head.
Even so, the opening set went to Muller. The second one went to a tie-break where the inner beast of Cilic finally woke up. He sealed the set with a tremendous cross-court passing shot. He kept the momentum on his side winning the next set by 7-5.
The player who took down Rafael Nadal in the fourth round had a final burst claiming the fourth act. The decider belonged entirely to Cilic especially after he managed to break Muller's serve right in the beginning of the set.
Marin Cilic vs Sam Querrey and the possibility of facing Federer in the final
Sam Querrey delivered another shock twelve months after his outstanding win over Novak Djokovic. The same stage, the same villain as Querrey got past Andy Murray in five sets. There was a hip injury that prevented Murray from playing at his best in the last two sets. Even so, the American deserves the credit for not getting distracted under these circumstances. In head to head, Marin Cilic leads Sam Querrey by 4-0.
And the most important factor is that three of their four meetings were held on a grass court. It's Cilic with the upper hand on this next encounter but you'll never know how things will turn up. If he gets past Querrey he might face Roger Federer next, the same guy who took him out of the contest last year. It'll be the perfect place for a revenge.- Cilic beating Federer in Wimbledon final. Three seasons ago, 2014 US Open saw something similar. Cilic thrashed Federer in the semis and he went on winning the final over Kei Nishikori. #Roger Federer