Jelena Ostapenko is no longer an accident or a coincidence
After winning the 2017 French Open, Ostapenko is making another consistent run at Wimbledon.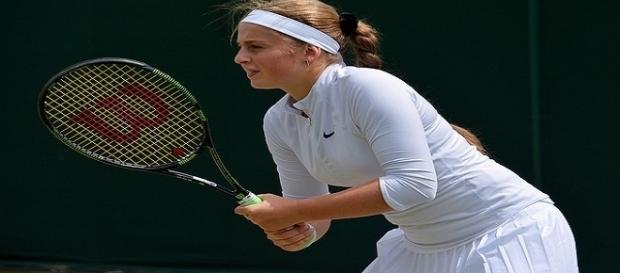 At 20 years of age, #Jelena Ostapenko from Latvia never ceases to amaze. Several weeks ago, she stunned the audience and the entire sports community by completing a dream run in Paris to win the 2017 French Open. After a short detour in Eastbourne just before Wimbledon, the newest WTA star put a target on Wimbledon Championships. Ranked 13th in the world before the third Grand Slam of the season, Ostapenko received the 13th seed slot. Despite having some inaccuracies on her game, she survived the opening rounds. Earlier today, she surpassed Elina Svitolina in straight sets to reach her first Wimbledon quarterfinal. It seems like French Open was not a happy coincidence as the young Latvian is becoming a well-established WTA name.
Elina Svitolina couldn't survive the Baltic hurricane
The encounter between Elina Svitolina and Jelena Ostapenko is likely to become a regular dispute over the next few years. Both players are breathing talent and skills through any pore of the skins. But today, Ostapenko was the one in charge. There some key moments during the match, few points that eventually inclined the balance in Latvian's side. Despite winning the opening set by 6-3, the score doesn't entirely reflect the reality from the pitch level. It was only a break of serve that made the difference. On the other side, Svitolina was unable to capitalize on her chances to break back. The second act saw Ostapenko racing towards an imminent end. She was about to choke when she went on wasting a handful of match points.
The set to a tie-break where the Ukrainian player eventually succumbed.
Ostapenko will face Venus Williams for a place in the semifinals
For the young WTA tennis star the next stage will bring the 37-year-old #Venus Williams on the other end of the tennis court. The American got past Ana Konjug in straight sets 6-3 6-1. There is an age gap of 17 years between Venus and Ostapenko. Back in 2000, when Williams was dominating the WTA Tour, her next opponent had only three years of age. In the absence of a clear favorite, Venus will do the job. She is a former champion at Wimbledon both in singles and doubles. Regarding the women's singles, Venus has five titles under her belt at the prestigious grass tournament. 2000, 2001, 2005, 2007, 2008 were the years when she went all the way. Her clash with Ostapenko is an old vs. new confrontation, a guard exchange.Reaching her second Grand Slam quarterfinals in a row is a sign of maturity for Jelena Ostapenko. #2017 french open