Dwayne Johnson receives birthday wishes from Priyanka Chopra
The Hollywood actor received several expensive presents on his birthday.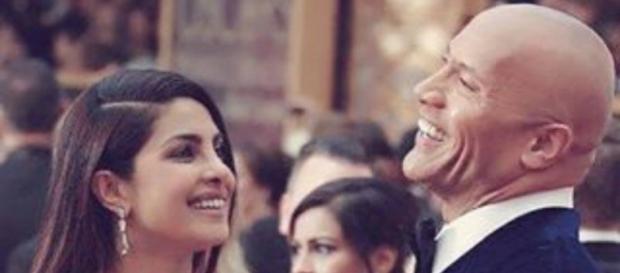 Priyanka Chopra took to her social media profile last night and shared several pictures from her Oscar appearance this year along with Johnson to wish him a happy birthday. The actress gave a beautiful present to her "Baywatch" co-star on his birthday. Chopra has always shared quality time with Johnson, and that's evident from their recent photos. Both Priyanka and Dwayne are often spotted together in press conferences and international promotions of "Baywatch."
Dwayne Johnson's birthday
Dwayne "The Rock" Johnson turned 45 and received many birthday wishes from his fans all over the world.
Born in 1972, he is an incredible actor, filmmaker, and former wrestler. Johnson holds Canadian and American citizenships.
He rose to prominence after the success of "The Scorpion King" in 2002. For this project, Dwayne was paid $5.5 million, and since then he has appeared in number blockbusters. Some of his most notable projects are "The Fate of the Furious," "Moana," "Saturday Night Live," "Star Trek: Voyager," and "The Mummy Returns." Recently, he posed for magazines like Rolling Stone, Entertainment Weekly, TV Guide, and Newsweek.
Dwayne plays lead in "Baywatch"
Dwayne is playing the leading character in "Baywatch." This upcoming action-comedy is directed and co-produced by Seth Gordon, based on the popular TV series of the same name. Zac Efron, Kelly Rohrbach, Alexandra Daddario, Jon Bass, Yahya Abdul-Mateen, Ilfenesh Hadera, Pamela Anderson and David Hasselhoff play the major roles in this film.
"Baywatch" focuses on two mismatched lifeguards, Dwayne and Zac, who forget about personal differences and join hands to fight against an antagonist, Priyanka.
They aim to stop her from the drug trafficking operations.
Happy 45th birthday to the people's champ, the great one, the most electrifying man, @TheRock #WWE #DwayneJohnson pic.twitter.com/HOayBxrslM

— The Competitor (@Competitor_News) May 2, 2017
Deadline reports that several actresses were auditioned for the role of female villain, including Ashley Benson, Alexandra Daddario, Nina Dobrev, Shelley Hennig, Alexandra Shipp, Denyse Tontz, and Bianca Santos, but the filmmaker chose Priyanka after seeing her performance in Bollywood blockbuster, "Fashion."
Previously, it was rumored that Amin Joseph, Jack Kesy, and Izabel Goulart are also in the cast.
But Dwayne took it to his Twitter account to reveal that they are not attached to the project. The film was taped in Florida, California, Georgia, Miami and Savannah. Paramount Pictures has scheduled "Baywatch" for May 25, 2017.
Happy birthday to you 😍❤ @TheRock #DwayneJohnson pic.twitter.com/2HesfDN3FI

— 🎀 Didi 🎀 (@_officialdilan_) May 2, 2017
Priyanka, Dwayne, and Zac regularly upload new movie posters to official social media accounts to create excitement among fans.
Happiest BirthdaY MY People's Champ 👐
Dwayne Johnson 😍@TheRock
My Inspiration 😍.
My Idol 😍
My All Time Favourite 😍.
Happy Birthday My Hero pic.twitter.com/NqgZRZlkFO

— Adil Nawaz (@A_dil_Nawaz) May 1, 2017