Elton John, from child prodigy pianist to megastar
His incredible and colourful life story in forthcoming Rocketman big screen biopic.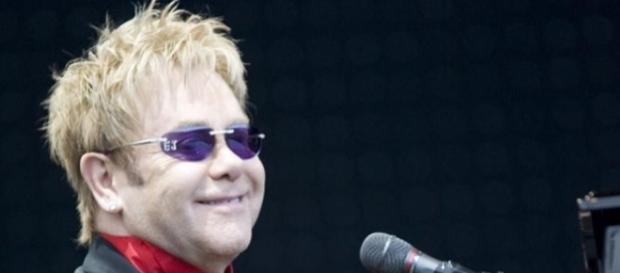 From pub pianist to global megastar, Elton John has been everywhere, seen everything and bought virtually every T-shirt available. Now, Steve Hamilton Shaw, David Furnish along with Focus Features and Lawrence Bender are putting together his life story for a forthcoming Rocketman biopic. The big screen musical fantasy with screen play by Warhorse and Billy Elliot writer Lee Hall, will tell the tale of the rock legend's epic rise from a standing start as a five-year-old prodigy to global sensation, with plenty of stops in between to take in the excesses, triumphs, the tiaras and the tantrums.
Half a century of treading the boards
Looking back on a career spanning almost half a century, the Rocket Pictures pair and their producers won't be short of material.
And with no official start date as yet, they have plenty of time to sift through it. There have been several suggestions about the lead role. Big names have ranged from The King's Speech co-star Guy Pierce, Ewan McGregor and James McAvoy to Elton's personal favorite Justin Timberlake. Though who will eventually be cast as the definitive Rocketman remains a mystery, the more recent and most significant addition to the casting arena has been Tom Hardy.
Dark Knight and Inception star Hardy has readily admitted that the part is well out of his comfort zone, though ironically, he seems to relish the idea. But with his ability to totally immerse in the role coupled with the inevitable challenges it presents, the film's producers seem confident they have made the right choice. A point endorsed by the living legend himself on a recent Graham Norton Show.
One thing however is certain, the film is set to be a roller-coaster of emotion as it whirls its audience through the colourful ups and downs of Elton's personal and professional life. The producers aren't planning to hold back on the visuals either as the musical journey is due to include intricate #Dance sequences set to some of the star's best loved songs. Suitably Michael Gracey has been signed as director. A choice which would seem ideal as his credits have included the imaginative dancing babies in the Evian water commercial.
No stranger to the world of celluloid
While his life story unfolds on the big screen, Elton John is no stranger to the world of celluloid. His first venture, with lyricist Bernie Taupin, produced the soundtrack to the film Friends back in the early seventies, along with musical arrangements by Paul Buckmaster. Since then Elton's #Music has been heard on The Road to El Dorado, Gnomeo and Juliet, The Muse and The Lion King. He also penned and sang The Drover's Song over the closing credits of Nicole Kidman and Hugh Jackman's epic film Australia.
Now that the Rocketman has reached beyond the pinnacle of his career, the timing couldn't be better. He's performed well over 4000 concerts globally, sold in excess of 250 million records worldwide and earned a knighthood. His is the definitive musical success story. His BRIT award - along with countless others - being the ultimate accolade. The release of The Diving Board and Wonderful Crazy Night, his first solo album in over six years, are all part testament to his incredible journey. #Movies