Idina Menzel puts on remarkable show at Nassau Coliseum in New York
Broadway queen delivers a noteworthy concert for her hometown crowd on Long Island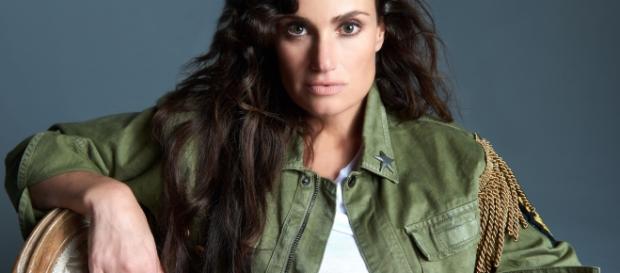 On April 7, Tony Award-winning actress, singer and songwriter Idina Menzel played a headlining show at the new #Nassau Coliseum, as part of NYCB Live. This was the third show at the newly-renovated venue after Billy Joel had the first sold-out concert on April 5, and Stevie Nicks and The Pretenders played the second show.
She began her set with "Queen of Swords," which is off her new studio album, "Idina," which was released on the record label Warner Bros. Records.
Menzel's set-list at NYCB Live
The songstress continued with another new song "Small World," before taking her fans on a trip down memory lane to the musical "Rent," with "Seasons of Love." She killed the classic tune "Don't Rain on My Parade" and yet another new song "Everybody Knows." She dedicated the song "Cake" to her fiancé.
It was followed by "I'm Not That Girl" and the tune "Perfect Story," which she dedicated to her son. She went on to deliver a poignant version of "The Wind Beneath my Wings," where she immediately broke into her signature song, "Defying Gravity," which is known from the hit Broadway musical "Wicked."
Another new song added to her set was "I Do," and equally exquisite was her rendition of the classic "Bridge Over Troubled Water." She picked up the pace with the rocking "Rocksteady," but the highlight vocal of the night was "No Day But Today," which she sang as a soothing lullaby that she dedicated to the late composer of "Rent," Jonathan Larson. Her vocals were charismatic and simply too good to be mortal.
Her set had a nice balance of Broadway hits, adult contemporary classics and songs that she co-wrote herself.
She did The Beatles' "Dear Prudence" justice and equally fun was "For Good." She closed with the song that every young girl in the audience was waiting for, "Let It Go," from the animated motion picture, "Frozen." Menzel was gracious enough to invite a few young fans on stage with her, where she was able to share the "Frozen" love with them.
Encore
For her encore, the Broadway sensation returned to the Nassau Coliseum stage to perform two additional songs, which included a cover of "I'll Be Seeing You" and "I See You," which was the perfect farewell for her Long Island fans. Over the show, she interacted well with the audience and allowed her bubbly and witty personality to shine, coupled with her God-given singing talent. Idina Menzel was able to take her fans and listeners on a true journey of her musical catalog over the years. #Long Island