Egypt's incumbent despot al-Sisi meets dictator-in-the-making, Trump
President Trump is solidifying his bond with Egyptian President al-Sisi, both largely viewed as dictators and the assertion couldn't be clearer.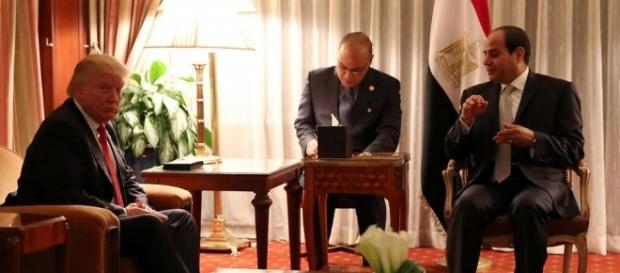 While on the campaign trail, Candidate Trump showered many of the world's dictators with praise. His praise for Vladimir Putin would eventually evolve into an investigation on the Trump administration and his connections to Russian officials. He has also praised North Korea's Kim Jong-Un, who is currently testing out President Trump's position on the Hermit Kingdom's nuclear program by firing missiles that could carry nuclear warheads and crashing them into the Sea of Japan.
As President, Trump has been put to the test to see how he would respond in such a crisis and to see what his stance would become when forced to make policy decisions.
For the most part, many Americans and lawmakers are still wondering what his policies are but when looking at the populist positions of many world dictators, it's almost as difficult to ignore how similar Trump is to them. With the White House welcoming #Egyptian President Abdel-Fatah al-Sisi on Monday, everyone can see quite clearly that Trump's admiration for a strongman dictator extend far past campaign rhetoric.
Abdel-Fatah al-Sisi's coup to power
Of the many places where the Arab Spring protests spread across the Middle East, Egypt made major headlines as they resulted in the removal of the former president for 29-years Hosni Mubarak in 2011. Through an interim president, Mohamed Morsi would become the next in 2012 before he would be removed by al-Sisi who as the Egyptian Army Chief suspended the Egyptian Constitution and ordered Morsi's arrest.
From the beginning of the Arab Spring and after the arrest, protesters had been killed by authorities which only created more anger among Egyptian citizens. Al-Sisi would become president in 2013 and impose a nationwide crackdown on dissenters.
Its been reported that since al-Sisi has been in power, anti-government protesters are generally quieted by the authorities. Al-Sisi has done as many other dictators do and imposed crackdowns against his opposition and much like Syrian president Bashar al-Assad, opponents are seen and sought out as terrorists. President al-Sisi has also presented himself as the stereotypical dictator when he was (the only one) running for president where he donned a general's uniform and shades, much like the look made popular by former Libyan President Muammar Gaddafi. The Guardian published an article about al-Sisi's meeting with the White House titled: "Warm welcome awaits Sisi as Trump rolls out red carpet for Egypt strongman," pointing to last year, when red carpet was put on the streets of Cairo for President al-Sisi's motorcade.
Muslim Brotherhood and human rights
After Morsi was overthrown, Egypt made an effort to promote Morsi's organization, the Muslim Brotherhood, as a terrorist group. Its been noted that the Egyptian government has tried to get the world to accept this view but powers such as the United States under President Obama have refused. Its been said that some in the Trump administration share al-Sisi's view and others reject it saying that the Muslim Brotherhood have themselves rejected violence, are more moderate and that it would be problematic to put them in the same category as groups such as the Islamic State.
The relationship between the Egyptian government and the Obama administration has reportedly been tense. Al-Sisi was the first world leader to congratulate Trump after he won the presidential election and the two also met at the United Nations last year, promising to work together. According to Peter Baker of the New York Times, al-Sisi is trying to reserve a generous financial agreement with the Trump administration which was stressed under Obama. There is also criticism over Trump's welcoming of the Egyptian president despite human rights abuses. Baker said that the Trump administration has pointed out that they feel that human rights issues are also their concern but feel it shouldn't be publicized. Critics say if they're not, then it doesn't send a message of America's values. #President Trump