Conditions are right for another 'test' by North Korea
As President Trump continues to increase his threats against North Korea, they show signs of conducting another missile test.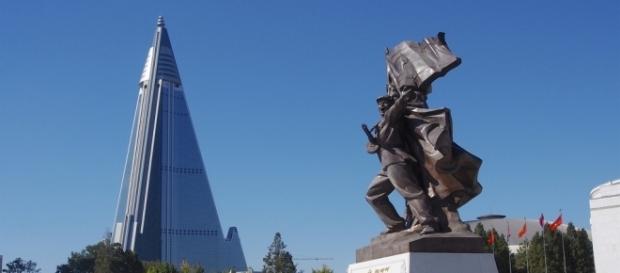 October 10 will be what #North Korea considers as "Party Foundation Day", which is the 72nd anniversary of when the Communist Party of North Korea was founded. On the same day, campaigns will begin for lower house elections for Japan's parliament and just eight days later, China will have its Communist Party convene in Congress. These dates could hold special significance for North Korea to conduct more missile and nuclear tests as they did on September 3, during the anniversary of the reclusive country's founding.
Preparations for another test
Recent reports, confirmed by MSN, of missiles being moved on Sept. 29 from a Missile Research and Development Facility in the northern part of Pyongyang (the capital of North Korea) is raising alarm.
The report of the sighting apparently came from an unverified source through South Korean intelligence. On Wednesday, the deputy assistant director of the CIA's Korea Mission Center, Yong Suk Lee, spoke at a conference that was put together by the agency at the George Washington University, suggested that the US be prepared for a "provocation" from North Korea on Oct. 9, marking as Columbus Day for the US.
There is more certainty with recent exchanges of hostility between President Trump and North Korean Supreme Leader Kim Jong-un, that the provocations would either be another nuclear #Test or the test launching of a mid- to long-range ballistic missile into the Sea of Japan. The CIA official suggested that there was no reason for Kim Jong-un to fear harsh economic restrictions from China or military strikes from the US unless the dynastic leader were to carry out one of his threats.
Continued defiance against US
In a recent threat that was triggered by President Trump's incendiary speech from the UN General Assembly [VIDEO], the foreign minister of the Democratic People's Republic of Korea (DPRK), the official name of the North Korean government, said that their regime would likely test a nuclear weapon over the Pacific Ocean in response. The CIA official said that Mr. Kim would not risk losing his power by carrying through with his threats. China has reluctantly enforced UN sanctions against the regime which got an angry response from the DPRK. However, Russia has defied the sanctions and in defiance, has openly offered to help the hermit government. The alleged sightings of the missiles being moved are said to be more mid-range to long-range missiles. #missile test