Israeli leadership's smear campaign against UNESCO for 'antisemitism'
When the UNESCO World Heritage Committee declared Hebron sites under Palestinian territory, Israel didn't hold back incendiary attacks.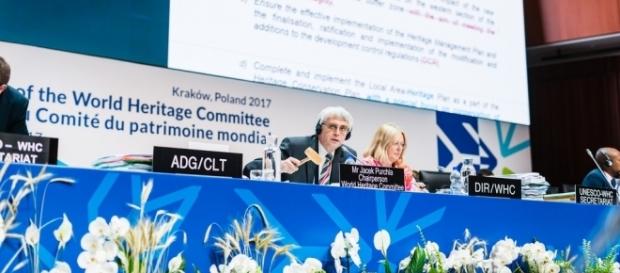 The Palestinian Authority submitted their request to have Hebron Old City and the Tomb of the Patriarchs designated as an endangered World Heritage Site in June, a designation that was voted on by the United Nations Educational, Scientific and Cultural Organization (UNESCO) on July 7.
As a result, both Israel and the United States verbally attacked the organization for their decision, with Israeli Prime Minister Benjamin Netanyahu saying that the #World Heritage Committee's decision was delusional, followed by the U.S. Ambassador to the UN Nikki Haley adding that it was "an affront to history." Netanyahu tweeted out his attack on UNESCO via Twitter.
עוד החלטה הזויה של אונסק״ו. לא אתר יהודי?! מי קבור שם - האבות והאימהות שלנו! נמשיך לשמור על מערת המכפלה, על חופש דת לכולם, ועל האמת. pic.twitter.com/t9ZGZrWQHM

— Benjamin Netanyahu (@netanyahu) July 7, 2017
Conflict at UNESCO
In Netanyahu's tweet, he said that because UNESCO designated the Tomb of the Patriarchs -- the second most religious site in the world -- as being in #Palestinian Territory, that the United Nations (UN)-affiliated organization was essentially denying Jews their connection to the site. The prime minister has specifically taken issue with the designation over territory even though his government has never declared sovereignty over the Old City of Hebron where the tomb is located.
Israel's envoy to UNESCO, Carmel Shama-Hacohen, told the delegation that repairs to his bathroom were more important than putting the city and the tomb on a World Heritage endangered list.
It was reported that he also went after the delegates from the World Heritage Committee because of their participation in holding a moment of silence for Palestinian deaths early last week. The moment of silence was followed by a similar gesture for his request over the victims of the Holocaust.
Committee accused of antisemitism
According to an article by the Times of Israel titled: "Israel reacts with disgust and disdain to UNESCO Hebron decision", an argument broke out over keeping the vote secret, and Shama-Hacohen felt that more Arab states would have voted against it. He angrily approached the chairman of the committee, who ended up calling security. In the days prior to the committee's decision, the Heritage Committee rejected Israel's claim to the Old City through a resolution.
In a similar gesture, the International Council of Monuments and Sites (ICOMOS) advised on a similar request by the Palestinian Authority which made their request to designate the site endangered under the condition, and that it be recognized as Muslim.
ICOMOS suggested that making the designation under those conditions would ignore the site's history of other religions. Many Israeli leaders, including the President of Israel, slammed the committee, with some even saying out front that the decision was anti-Semitic.
This is not the first time that Netanyahu attacked the United Nations, with reports that he has had the Israeli government take away more funding from the UN. Last year, toward the end of former President Obama's term, he attacked Obama and the UN for declaring the expansion of Israeli settlements into Palestinian territories illegal. As a matter or retaliation, the Prime Minister vowed to continue securing the Tomb of the Patriarchs despite the committee's decision. UNESCO is required to monitor the site as a protective measure. #antisemitism