Obama-era establishment candidate Tom Perez elected new DNC chairman
Tom Perez was elected chairman of the DNC on Saturday after two rounds of balloting.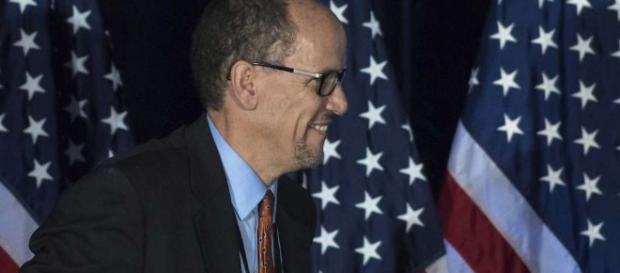 It took two rounds of voting Saturday to choose who would lead the #dnc into the next era. #tom perez came out the victor beating out Minnesota Rep. Keith Ellison, who had been his main rival. Crossing the threshold of 218 ballots, Perez received 235 votes. Getting back to basics and turning the Democratic Party around are two goals he feels confident he can accomplish as the new chairman. He also issued a warning to conservatives that the new Democratic party would take the fight to POTUS Trump, and win elections from school board to the Senate. These are some ambitious goals for a party that's been on suicide watch ever since Hillary's campaign and election failure.
Who is Tom Perez?
Tom Perez is a former labor secretary under Obama, consumer advocate, civil rights lawyer, and now holds the distinction of being the first Latino chair of the Democratic National Committee. Perez believes that the Democratic party needs to go to the suburbs, the exurbs, and rural America, and talk to people in those areas. More dialogue is needed on both sides. On his webpage he vows not to take money from federal lobbyists, foreign nationals, or current Labor Department employees.
What to expect from the DNC in the future
Perez has an uphill battle with numerous specters hanging over the DNC and the party in general. The electronic hacking scandal, forced resignation of Wasserman Schultz, Donna Brazile giving debate questions to candidate are just a few of them.
Seeking to unify the party, Perez named Ellison to be his deputy chairman. To be successful at rebuilding the party, he will have to win over the Bernie Sanders supporters because they had backed Ellison. He will also have to repair the disconnect of state and county party networks that are the backbone of the DNC. He will also go after lost minority support by using his civil rights expertise to fight the voter ID laws Democrats complain deprives minority voters of their rights. One thing the Democrats should consider is that it's important to have a message that is not always about anger. The party needs a rebuild and this move will hopefully contribute to that. #Obama