Pipeline opponents unfurl giant banner during football game, sparking security concerns
Protestors of the Dakota Access Pipeline infiltrated a football game on Sunday, raising concerns about terror and security.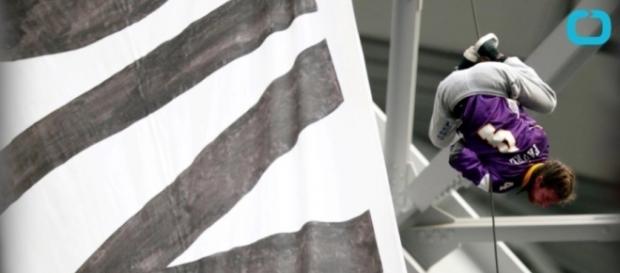 Protestors managed to unfurl an enormous banner during a #Football game on Sunday, sparking renewed concerns about security amid heightened terrorist concerns. What many thought would be an ordinary season finale game between the Minnesota Vikings and Chicago Bears turned into a successful attempt to hang a nearly 40-foot-long vertical banner protesting the Dakota pipeline. The two climbers were later identified as Karl Mayo and Sen Holiday, 32 and 26 respectively. Attendees, though, wondered how they got past security with all that equipment.
Police were unclear how the dynamic duo were able to sneak in the giant vinyl sign, heavy metal hooks, climbing equipment, and other items needed to rappel off the stadium's rafters and hang the banner.
It's believed the activists climbed over a guard rail to gain access to the rafter's truss. Police also think a third person carried the banner into the stadium using an oversized backpack. The banner asked Minneapolis-based U.S. Bank to "Divest #NoDAPL." U.S. Bank has given credit lines to the parent company of the #Dakota Access Pipeline (DAPL).
There is a guy in a #Vikings Brett Favre jersey hanging from a banner inside US Bank Stadium. For real. pic.twitter.com/MJRtqNX9Zz

— Brad Biggs (@BradBiggs) January 1, 2017
Media stunt
While dangling from the rafters, the pipeline opponents called the media to alert the of their stunt. On Twitter, Matt Vensel sent out a statement describing why they were protesting against DAPL, even though construction has been put on hold by the #Obama administration.
Much of this is part of the "keep it in the ground" campaign financed by wealthy billionaires. Obama is already rushing out more regulations before Donald Trump takes office.
Was just emailed this press release about the protest at US Bank Stadium. pic.twitter.com/kQ4lxA1hOl

— Matt Vensel (@mattvensel) January 1, 2017
Stadium danger
Even though the game continued without interruption, most stadium fans were watching the pipeline opponents swinging in the rafters as they hung the banner. Police cleared people sitting directly beneath the banner in case the sign or the protestors fell. One video posted on Twitter showed the cops making their way up a slanted beam to apprehend the activists.
.@BradBiggs Cops going to get him pic.twitter.com/ylkfZBiFor

— [J]ayJChillin (@JayJazzi) January 1, 2017
Arrested and booked
While no one was hurt during the stunt, the activists were charged with trespassing and burglary. A third person, a 27-year-old woman, was arrested on Monday and charged with obstruction of justice.
One of the activists was memorialized on Twitter when a football fan filmed him rappelling from a truss upside down.
This guy is repelling upside down inside US Bank Stadium pic.twitter.com/FWNjjQ7pYU

— Dave Schwartz (@Dave_Schwartz) January 1, 2017
The other protestor, Sen Holiday, said in a statement that they were standing in "solidarity with water protectors from Standing Rock" and urging "U.S. Bank to divest from the Dakota Access Pipeline."
The pipeline, which was going to run deep beneath a river near the Standing Rock Sioux Reservation in North Dakota, is now in limbo at least until Inauguration Day. The project was given numerous approvals on federal, state, and even tribal levels to proceed, but after protestors—largely from nearby California—showed up, the Army Corp. of Engineers put the pipeline on hold.
Security concerns
One person at the football game told KSFY news there were better ways to get your message across than "risking their lives and all the people below them." Police noted the banner could have dropped, or worse, the protestors could have fallen. Many game fans also wondered how the activists could get all that equipment into the stadium undetected, especially with cities on high terror alert over an extended holiday weekend.