200 dogs saved from South Korean dog meat industry
Humane Society International rescued doomed dogs from filthy and cramped cages; will be put up for adoption.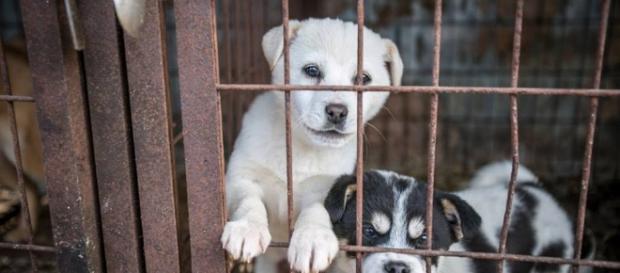 Two hundred #Dogs that were destined for a horrible fate of being butchered for #South Korea's dog meat industry have been rescued and are on their way to new homes in the United States, Canada, and the United Kingdom. #Humane Society International says that its crews rescued the dogs as they awaited what would have been certain death, while being kept in filthy, cramped, and overcrowded cages in a dog meat farm in the country's Gangwon province. Cocker spaniels, English Spaniels, Beagles, and Pyrenees were among the dogs saved, as well as breeds more commonly found on meat farms, such as Mastiffs and Jindos.
"These are amazing dogs who will make wonderful companion animals, and we are thrilled to give them a chance at a better life," society spokesman Wayne Pacelle said in a statement on Tuesday.
Photo of the Moment Dog Saved From Meat Farm Met His Rescuer. @HumaneSociety https://t.co/UuQa5K0Ou9 #animals pic.twitter.com/gwIYvcAaUY

— One Green Planet (@OneGreenPlanet) January 10, 2017
Millions of dogs slaughtered every year in South Korea
HSI says though it closed down the dog meat farm and has rescued nearly 800 dogs from South Korean dog farms since January 2015, it's estimated that every year between 2 million and 2.5 million dogs are slaughtered for human consumption in the country.
"We cannot shut down every farm and bring the dogs to other nations but we can act as a catalyst for changes in attitudes and public policy," Pacelle said.
The society says with South Korea being the only country where dogs are farmed commercially for their meat, it's hoped their rescue efforts and negative publicity about the industry, especially with the 2018 Winter Olympics being held in South Korea, will lead to the closure of more dog meat farms.
Nation's largest dog meat farm has also been closed
Last month, officials in Seongnam, South Korea announced the closure of the nation's largest dog meat market, where it's estimated tens of thousands of dogs -- either dead or alive -- were sold every year. It's believed the market sold about a third of the dog meat consumed in Korea.
The dogs rescued this week and sent to the U.S. will be taken to animal shelters across the country and put up for adoption.