As the world mourns another terrorist attack in France ISIS celebrates in the aftermath
The terrorist group instructed jihadist how to use trucks as a weapon in their recent publication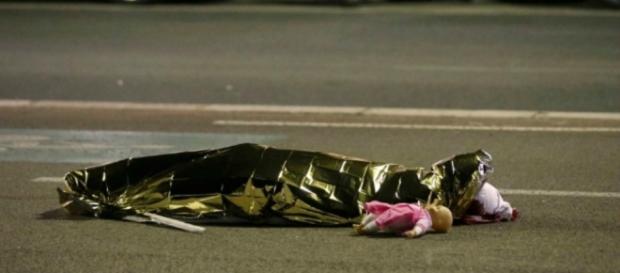 Supporters of the Islamic State took to social media to celebrate the latest terrorist attack that killed 84 people including two Americans and injured 100 on July 14, during the Bastille Day celebration in Nice, France. French authorities identified the assailant as, 31-year-old Mohamed Lahouaiej Bouhlel, a "career criminal" of Tunisian decent. Investigators have not found any link to known terrorist groups, however, they believe he was inspired by a September 2014 speech given by an Islamic State spokesman, who called for supporters to "run enemies of Islam over with your car." 
Jihad with a car
The Islamic State's Attack Minister, Abu Mohammed al-Adnani instructed followers of the terrorist organization to kill the infidel.
He said; "If you can not detonate a bomb or fire a bullet, arrange to meet alone with a French or an American infidel and bash his skull with a rock, slaughter him with a knife, run him over with your car, throw him off a cliff, strangle him, or inject him with poison."
Al-Qaeda encouraged truck attacks
This is not the first time a terrorist organization instructed their followers to use a vehicle as a weapon. In a 2010 Inspire magazine article entitled "The Ultimate Mowing Machine", al-Qaeda encouraged their followers to use pickup trucks as a "mowing machine against the enemies of Allah." 
Palestinian terrorist have also used "mowing or car ramming" to target Israeli citizens. according to the Times of Israel, "over 34 Israelis, two Americans, an Eritrean, and a Sudanese were killed by car ramming" in 2015. 
Revenge killing
U.S.
Intelligence officials believe that the Nice terror attack may be in retaliation for the death of Abu Omar al-Shishani, the Islamic States "Minister of War," who was killed earlier this year while fighting against coalition forces in Iraq. al-Shishani's name was mentioned several times by ISIS supporters on social media. Supporters also created a hashtag claiming the attack was revenge for his death. 
One tweet read, "Oh France, you and the rest of Europe will never be safe until we live safely in every inch of land Khilafah" Twitter has since taken the tweet down and suspended the account. 
America's response
President Barack Obama pledged U.S. support following the terror attacks. In as statement on Friday, he called the attack "appalling and a threat to all of us." He said that he spoke with President Francois Hollande earlier and told him, " The United States pledged its support to help defeat extremist ideologies and that America "would stand with our French friends."
Presumptive Republican presidential nominee, Donald Trump said, these terrorist groups are "out of control." He believes that the world is in a "world war against people without uniforms." Mr.
Trump postponed his scheduled news conference where he was to announce his vice president pick. He later tweeted that he has chosen first term Indiana Governor Mike Pence as his running mate. Democratic presidential nominee Hillary Clinton said in a statement that she stands in support of France.  #Terrorism #Nice Attacks #PrayForNice