Old Westbury Gardens exhibits life-sized sculptures by Seward Johnson
Artist Seward Johnson discussed the life-like sculptures he is displaying on Long Island's historic Old Westbury Gardens through September 24, 2017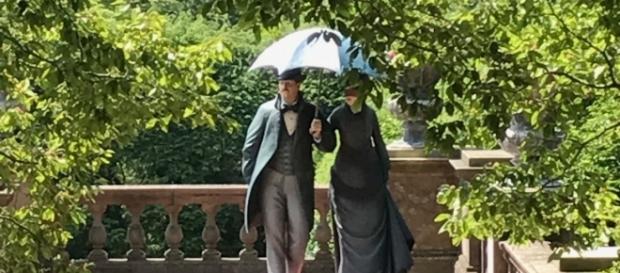 Old Westbury Gardens is a famous historic mansion and gardens on the "Gold Coast" of Old Westbury, #Long Island. The manor was initially home to financier John S. Phipps and his family. Today, it is listed on the National Register of Historic Places, and the house and grounds are now open to the public.
Guided tours and garden walks are constant features at the location, and the historic site also hosts an array of artistic events. From June 16 to September 24, 2017, the grounds will be displaying numerous life-sized sculptures by internationally renowned artist #Seward Johnson. Several of the sculptures, which are all incredibly realistic, were inspired by famous French Impressionist and Post Impressionist paintings.
Thus the costuming and poses fit beautifully into the period setting of the mansion and grounds.
Sculptures in the garden
The thirty-two sculptures on display are from two separate series by Seward Johnson titled "Celebrating the Familiar" and "Beyond the Frame" resulting in some sculptures looking like people from the early 20th century--when the Old Westbury mansion was constructed--while others resemble people from modern times.
Throughout the grounds of Old Westbury, the figures are situated in various locations amid the 88-acre garden. The blended exhibition is titled "Experiencing #Art in the Landscape, " and the public is encouraged to take photos with the pieces while walking around the beautifully manicured gardens.
Old Westbury Gardens decided to create a special exhibit early last year and Old Westbury Gardens' CEO Nancy Costopulos was impressed by Seward Johnson's life-like and photogenic sculptures.
Nancy moved to Long Island from Chicago and had worked at the Chicago Botanic Garden and the Los Angeles Zoo before coming to New York and settling into her current position at Old Westbury. Nancy and the Old Westbury Garden team worked diligently to arrange this display which was the location's debut outdoor/indoor art exhibit.
"The feedback has been fantastic," Nancy stated in a recent exclusive interview. "It is such fun to see the smiles and hear laughter when people are taken aback when they realize a person they thought was sitting under a tree or walking down a path is a sculpture! I was sitting in one of the gardens the other day, and a person walked toward me and asked me if I was a sculpture!"
Although she is fond of all the artwork, Nancy admitted to having a special affinity for "Eye of the Beholder" which is situated under a magnificent Beech Tree near Westbury House. She is also a fan of a piece titled "On Poppied Hill" which is located near the rose garden. The first piece was inspired by Manet and the second an homage to the famed painter Monet.
"I also like 'Captured' which depicts a lovely young woman sitting on a bench reading," Nancy declared. "The reason I like it so much is that I see visitors all day long interacting with her, sitting with her on the bench, taking photos and selfies, and having fun. The sculpture is so realistic; you have to do a double take to realize she is a sculpture and you are immediately attracted to her! This show is so successful that we hope to plan another art exhibition for 2018 that will capture the wonderful synergy between art and the natural beauty of Old Westbury Gardens."
Synergy is certainly something that the works of Seward Johnson have en masse. An artist who is best known for creating large-scale realistic sculptures that look incredibly life-like, Seward Johnson has been creating his sculptures for almost fifty years. The vast majority of his pieces have appeared in public spaces and continue to captivate audiences of all ages. He has created over 450 life-sized bronze sculptures which have been exhibited in galleries, museums, private collections, and public areas throughout North America, Asia, and Europe. Although he started his artistic career as a painter, Mr. Johnson regards sculpture as his true calling. His bronze figures are often so realistic that it is easy to mistake them for real people doing average things such as reading a newspaper on a bench, sunbathing, fishing, and more.
Recently, Seward Johnson discussed his artwork, career, and exhibition at Old Westbury Gardens, via an exclusive interview.
An interview with the artist
Meagan Meehan (MM): What initially inspired you to become an artist and why did you gravitate towards realistic sculptures?
Seward Johnson (SJ): The human form is seductive to us because it is us. It is the easiest way to get someone's attention to give a message of any kind. As far as becoming an artist, I think it was simply the best fit for me. I would never be suited to a corporate life!
MM: Out of all your sculptures, do you have any favorites?
SJ: I can't say that I have favorites, but at Old Westbury, I love seeing "If It Were Time" – the Monet – as it fits so beautifully into the setting. And my "Copyright Violation" piece – a sculpture of Monet painting a painting of my sculpture of his painting –is just perfect there. The three dancing couples on the mansion lawn – all inspired by Renoir paintings – are also a joy for me to see in the context of this landscape.
MM: Which works have been the most challenging to create and do you regard any as being especially unusual or striking?
SJ: I do challenge myself from an engineering standpoint on a regular basis! Creating the giant 25-foot-tall Marilyn Monroe with her skirt billowing was terrifically difficult regarding balance. I had to make the skirt out of aluminum so that she wouldn't tip over!
MM: You have created sculptures that resemble people from both the past and the present, so do you enjoy working with a period or modern figures more?
SJ: They are quite different. I enjoy putting myself into the head of the Impressionist painters of yesteryear and "finishing" all the other parts of the scene that you don't see in the 2D painting. But I like starting fresh with my observations of contemporary life, too. Modern problems are reflected in the pieces that show contemporary figures relating to one another.
MM: How did the exhibition at Old Westbury Gardens come about and how did you select the pieces to include?
SJ: I was invited by the Old Westbury Gardens people, and as I understand it they have not hosted a sculpture show before. My curator chose the works to fit specifically into the various gardens with an eye to understanding how people discover things on the property.
MM: Did you tailor-make any of these sculptures for Old Westbury Gardens?
SJ: Several were modified for this site with special paintings on canvases to reflect the views, and the grassy hill for On Poppied Hill was specially built for the location. It is often a "start from scratch" to match the landscape with the artworks at each particular place. You want to collaborate with nature!
MM: Do you have any favorite venues from around the world?
SJ: I loved having my works in Venice, Italy, during the Bienale and in Rome and Sicily for the G20 conference. I also enjoyed displaying my artwork in Berlin and in Frankfurt. Yes, the pieces in Italy going down the canals in Venice and up the Spanish Steps – those were quite spectacular! But Old Westbury is grand and very magical, and I've enjoyed seeing the sculptures in sync with the hedgerows and gardens.
MM: Are you currently working on any projects or anticipating any new exhibitions shortly?
SJ: I am working on a piece of Churchill painting at his easel for my "Icons Revisited" series. Also, I've recently been inspired by the painter Redon and his sense of the mystical, so there are some sculptures in the works on that theme. I have a very big show up right now in the Midwest (Elkhart County, Indiana) with fifty-seven sculptures. That plus the thirty-two sculptures on display at Old Westbury Gardens has made this summer quite rich! I'm very much enjoying what I'm doing. So, when I hear that others find something in the sculptures that they respond to- well, it's the icing on the cake!