'Gift 'ems': Collectible toys that celebrate global diversity
JAKKs Pacific releases a collectible line of miniature toys that celebrates diversity and offers facts about geography and culture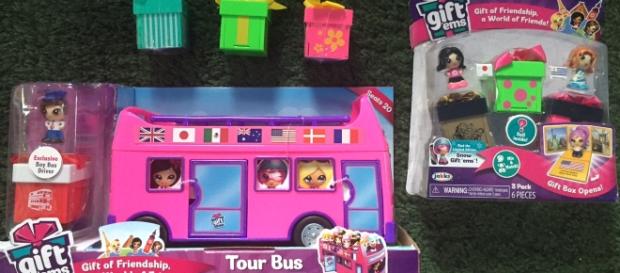 People come in all shapes and sizes and the world is a big place that fosters many different cultures of people who hail from various places. A new toy line called "Gift 'ems" is seeking to celebrate diversity in a fun and colorful way via their line of collectible mini-figures. This is a particularly excellent line of products to be released during an Olympics year.
Figurines . 
All of the figures in the "Gift 'ems" line come in a little surprise gift box shaped like a present. The boxes are sold for only a few dollars and they are "surprise packs" which means that you won't know what you get until you open it. Hence, these toys are both extremely collectible and trade worthy.
Every box contains one mini-figure--equipped with a catchy name--from a specific city alongside information about that city and its country. For example, "Sydney Sunshine" is the character from Sydney, Australia. The box she comes in includes a photo of a koala, a map of the country of Australia and a photo of the Sydney Opera House. The kit also contains an image of the Australian flag.
Playsets. 
"Gift 'ems" is also coming out with playsets. At present, there is a movable tour bus available that the figurines can sit in and take in the sights. The bus playset comes with "Dylan Day," a character from London, England, who is noteworthy for being one of the only males in the line. By the fall of 2016 a detailed hotel playset will be added to the line as will additional characters from additional cities across the globe.
Collectibles.
Possibly the coolest aspect of the figurines in the "Gift 'ems" series is that they can be taken apart. Hence, you can switch the clothes, hair and head of each doll and the more you collect the more characters you can create. This line is not outright educational but it certainly does raise awareness about other countries and provides some cool--if basic--information about other places such as what each country's flag looks like. These toys will hold a lot of appeal to collectors and it's exciting to think of what this unique brand will come up with next. To learn more, visit the official JAKKS Pacific website. #collectibles