President Donald Trump held a meeting with representatives of the leading high-tech corporations in the country on Monday, company managers told the president about their priorities in the work.
According to the USA Today, about two dozen businessmen attended the meeting, including the leaders Alphabet (the holding company that owns the Google search engine), Apple, Amazon, Microsoft, IBM, Intel, MasterCard and other companies. At the meeting, there was a well-known investor and longtime supporter of Trump Peter Thiel.
Trump aims to create jobs
Trump said that his priority is to create jobs. He added that the current administration intends to stimulate innovation, reduce taxes and ensure that high-tech companies can attract foreigners. IT-companies are afraid that the tightening of the regime of issuing working visas announced by Trump will negatively affect the industry.
Trump, Kushner, Ivanka meet with Tech CEOs including Apple's Tim Cook, Alphabet/Google's Eric Schmidt https://t.co/x0XcOzxYqE pic.twitter.com/j45qU1kEWA

— Xeni Jardin (@xeni) June 20, 2017
Trump also promised massive changes in the technologies used by government agencies in the US to better protect the infrastructure from cyber attacks and provide citizens with better-quality services. According to Trump, these measures combined with tax cuts can allow the budget to save up to $ 1 trillion over the next ten years.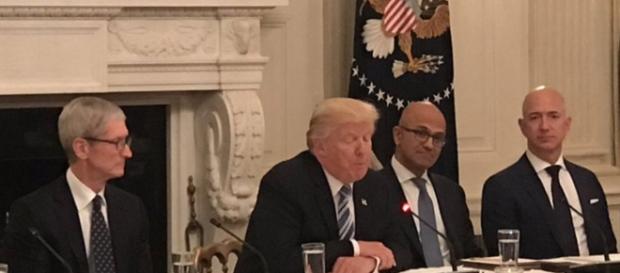 Letter by 20 biggest IT companies
Previously, the US IT companies wrote a letter to Congress asking them to change the spying laws on the network. The appeal was signed by 20 companies, including Facebook, Google, and Microsoft. The companies proposed to deprive the NSA of certain powers, as well as to establish control over the Agency's activities. In addition, the authors of the initiative demand transparency in the information about what data the agency collects.
Tim Cook talked about Coding
It was noticed that Facebook CEO, Mark Zuckerberg could not attend the meeting due to the conflicts in the schedule. But the meeting was attended by Microsoft CEO Satya Nadella, Apple CEO Tim Cook, Oracle co-CEO Safra Catz and executive chairman of Google's parent company, Alphabet Eric Schmidt.
Jeff Bezos, Tim Cook and more tech leaders meet with Trump to talk cybersecurity, immigration https://t.co/gzjtahn9Qn pic.twitter.com/w12CbHMxno

— Hollywood Reporter (@THR) June 19, 2017
At the technology roundtable, Trump asked all the CEOs to speak individually, Cook said today's government doesn't have the most modern equipment.
He said computer coding should be an important subject in school. Following Cook's part, Amazon CEO Jeff Bezos said the US government needs to work on artificial learning and on machine learning.
Tim Cook and Other CEOs Meeting With Trump Today to Discuss Using Tech to Reduce Government Spending https://t.co/SaTGJjrhs9 by @mbrsrd pic.twitter.com/8RVLBJw5Fo

— MacRumors.com (@MacRumors) June 19, 2017
Later in the meeting with the President, government officials, tech executives, and their associates discussed the topics including cybersecurity, procurement, immigration and cloud computing.