Watch the video of the news article
Don't miss our Facebook page!
Like Blasting News page on Facebook: we will keep you updated with all the latest news.
As the 2018 NFL Draft continues to pan out, teams are beginning to find their identities going into the next regular season. As later round picks fight for a spot on the 53-man roster and practice squad, first round picks, quarterbacks, in particular, look to transform their team into the next Super Bowl contender. This draft was one in which a lot of talk was on the placement and draft positions of the five big quarterbacks: Sam Darnold, Josh Rosen, Josh Allen, Lamar Jackson, and Baker Mayfield. In this edition of "Draft Grades," I'll break down each of the big name quarterbacks selected in the first day of the NFL Draft. Enjoy!
Early first round picks
Pick number one, Baker Mayfield, Cleveland Browns. Baker Mayfield continues to make history; he's now the first former walk-on player to ever be selected number one overall in the NFL Draft. Although off the field issues and character issues plagued Mayfield in his college days at Oklahoma, John Dorsey and the Browns' front office see him as the guy that can turn around their franchise. The former Heisman winner was very impressive in 2017, as he was by far the most accurate thrower of the football out of all the quarterbacks in this draft.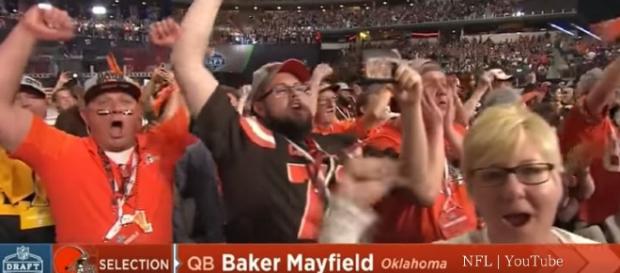 On the run, Mayfield showed he could make all the throws, and had a certain swagger and will to win that elevated him in many draft boards. His only concerns are his size (6'0") and his prior off-field issues, although he claims to be in control of the latter. If he is in fact on top of the off-field issues, he should be successful with the Browns' elite group of wide receivers in Josh Gordon and Jarvis Landry. Grade: B-
Pick number three, Sam Darnold, New York Jets.
Mocked by most as the safest, most NFL ready Quarterback, Sam Darnold was passed up by the Cleveland Browns and the Jets wasted no time in picking him up with the third overall pick. Many teams though Darnold would go number one overall to Cleveland because of that high floor and even higher ceiling. New York didn't let this opportunity slide. At 6'4", Darnold has great size and stature for a cold weather team. The only concern with Darnold is turnovers.
He threw 13 interceptions in his 2017 campaign with USC. Similar to Mayfield, Darnold is great on the run and consistently makes plays that turn your head and make you think, "How did he do that?" As the Jets continue to rebuild their team, Darnold will most likely sit out the 2018 season and learn behind one of the NFL's veterans in Josh McCown, although it would be possible to see him late in the season if McCown struggles. Grade: A
Pick number seven, Josh Allen, Buffalo Bills.
The Buffalo Bills traded their first-round pick at number 12 and moved up to seventh in order to take who many deem as the next Carson Wentz. Although the body type and stature check out in this comparison, many of the numbers do not. He's a huge guy who can sling it, and at 6'5" and over 230 pounds, his stature is similar to many of the big quarterbacks in the NFL today. The big concern of Allen, though, is his accuracy. He completed just over 56 percent of his passes throughout his college career, which for comparison, is almost 15 percent less than Baker Mayfield.
He has a cannon for an arm and can make all the throws, but his consistency and ability to make the easy throws look difficult turned a few teams off. He'll be a project for Buffalo, and needs NFL grooming to bump up that accuracy. Grade: C+
Mid to late first round selections
Pick number ten, Josh Rosen, Arizona Cardinals. Similar to Buffalo, Arizona traded up from their 15th pick in the draft in order to take UCLA star quarterback Josh Rosen. Rosen, similar to Darnold, was originally mocked near the top of the draft to the New York Giants, was passed on by several teams and found his way all the way down to the Cardinals. Probably the most natural, smooth thrower of the football, Rosen was plagued with injuries in college, which is partially why his draft stock fell on day one. His outspokenness on critical issues and potential unwillingness to be coached made teams wary of Rosen as well. Out of all the teams that drafted a quarterback in the top ten, Josh Rosen looks to go to the most ready-made team. Paired with All-Pro running back David Johnson and Hall of Fame wide receiver Larry Fitzgerald, Josh Rosen has more weapons on offense and a ready-made defense to win now. Grade: A+
Pick number 32, Lamar Jackson, Baltimore Ravens. The Baltimore Ravens, after trading with the Philadelphia Eagles, secured their future at quarterback by selecting Lamar Jackson, the former Heisman winning Louisville star. Being arguably the most electrifying player in college football the past two seasons, Jackson's skill set not only as a passer but a runner as well makes him a high ceiling pickup late in the first round. Although the Ravens have a quarterback for the foreseeable future in Joe Flacco, Lamar Jackson will be able to learn the playbook in case of an emergency or serious deterioration in their Super Bowl-winning signal caller. Jackson, with help from NFL coaching, should be able to fix some of his accuracy issues he was prone to at the college level. Baltimore is the perfect place for Lamar. Grade: A-
Click to read more
and watch the video