Philadelphia Eagles: Is Carson Wentz the most improved player in the NFL?
It's been an impressive few weeks for the Birds' second-year quarterback.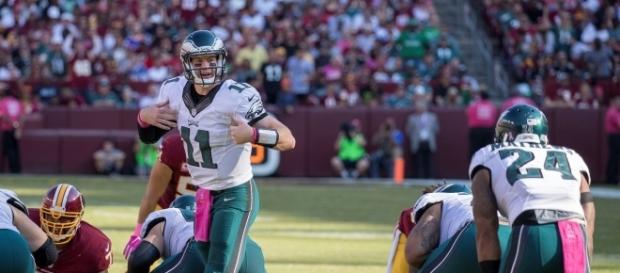 Last Sunday afternoon at Arrowhead Stadium, the last of the NFL's undefeated teams bit the dust as the Pittsburgh Steelers knocked off the #Kansas City Chiefs, 19-13. It ended a seven-game regular-season winning streak by Andy Reid's club. Four weeks earlier, the #Philadelphia Eagles were in Kansas City and came up short, 27-20. And the Birds from the City of Brotherly Love haven't lost since. Doug Pederson's squad has reeled off four consecutive victories [VIDEO], the latest a 28-23 victory over the NFC South-leading Carolina Panthers.
A year ago, the Eagles opened 3-0 and lost nine of their final 13 games to finish 7-9.
This season, they are in first place and have managed a 5-1 record despite playing four of their first six games on the road. And a lot of the credit for the impressive start goes to a player that has come a long way in a short time.
A challenging rookie season
Anyone remember the circumstances surrounding Wentz's being the Philadelphia Eagles' starting quarterback in Week 1 last season against the Cleveland Browns. With about two weeks before opening weekend, it was thought that Sam Bradford would be Pederson's signal-caller. Meanwhile, Wentz was a little banged up during the summer as Chase Daniel and Bradford got more playing time than the second overall pick in the 2016 draft. He completed 12-of-24 passes for 89 yards and one score in the club's first preseason game. But he did not play the remainder of the summer.
Then Bradford is dealt with the Minnesota Vikings, and suddenly Wentz and not Daniel is the starter.
Things would start well for the rookie signal-caller. He would throw five touchdown passes, and the team played turnover-free football during the Eagles' 3-0 start. Then reality struck, and Wentz finished with 17 turnovers in his final 13 contests compared to only 11 scores. Philadelphia closed the season with wins over the playoff-bound New York Giants and Dallas Cowboys [VIDEO] but still finished 7-9.
Flying high these days
So why could Wentz be the NFL's most improved player from a year ago? In the Philadelphia Eagles' first six games this year, he's thrown 13 TD passes compared to only three interceptions. He's fumbled five times and lost just two of those miscues. Compare that to his 16-game performance in '16, in which he threw for 16 scores but was picked off 14 times and lost three of his 14 fumbles. And don't take our word for it. "Carson's obviously playing amazing football," explained Eagles' tight end Zach Ertz to Tim McManus of ESPN.com, "and it's easy to play with a guy like that." Ertz leads the Birds with 34 catches for 405 yards and is tied with wideout Nelson Agholor for the team lead with four touchdown receptions. Wentz has thrown seven TD passes and one interception in his last two games and is looking like a player capable of big things. As do the Eagles as a team. #Carson Wentz