Bears move rookie Mitch Trubisky as backup QB, Flacco ready to go for Ravens
Coach John Fox was impressed by Trubisky's improvement in running the offense in the preseason.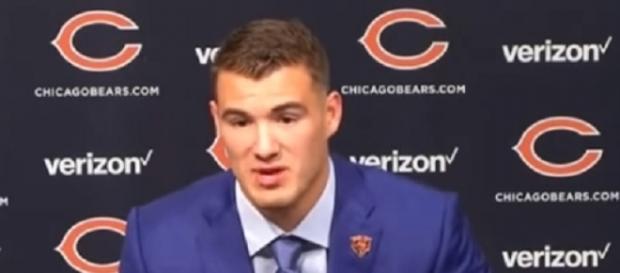 #Chicago Bears head coach John Fox announced that rookie Mitchell Trubisky, the team's No. 2 pick in the 2017 NFL Draft, is now the No. 2 quarterback, overtaking veteran Mark Sanchez for the right to back up #Mike Glennon. "He earned that spot. Everyone was impressed how fast he picked things up," Fox said of Trubisky, who spent the preseason as the No. 3 quarterback. Sanchez, for his part, will lead the scout team for the Bears. Fox was impressed by Trubisky's improvement in running the offense in the preseason, with the rookie completing 67 percent of his throws for 364 yards and three scores with no interception. With the move, Trubisky is now a step away from taking over the starting job from Glennon.
Now, the pressure is on Glennon to step up in the regular season for him to keep his starting job. If not, Fox is confident that Trubisky is well equipped to start under center for the Bears, who traded up to No. 2 to get him. The Bears will open the season Sunday at home against the reigning NFC champion Atlanta Falcons.
Flacco feels good after practice
Baltimore Ravens veteran quarterback Joe Flacco declared that he's feeling fit and ready after fully participating in practice Wednesday. In an interview with reporters, Flacco said he's ready to go in their season opener against the Cincinnati Bengals Sunday. Flacco is confident that his back will not be an issue in the regular season, adding that he will be "confident as ever when I take the field". Flacco missed training camp and preseason due to back issues.
While he was out, the Ravens mulled signing veteran quarterback Colin Kaepernick, but the plan never pushed through after determining that Flacco could return in six weeks or just in time before the start of regular season. Flacco hasn't missed a regular-season opening game since he took over the starting job for the Ravens in 2008.
Bears part ways with Lamarr Houston
According to Ian Rapoport of NFL Network Insider, the Bears have parted ways with veteran pass rusher Lamarr Houston after he suffered a knee injury in the team's preseason finale. Rapoport said Houston's knee injury is not significant and he can work out next week. The 30-year-old Houston, if healthy, could contribute significantly to a team in need of a veteran defensive presence. Houston sat out most of the Bears' 2016 season due to a torn ACL in September. In 2015, he recorded eight sacks and 36 tackles with the Bears. #Mitch Trubisky