Roberto Bautista-Agut and John Isner in the 2017 Winston-Salem draw
The 250-level tournament features six rounds of play with byes to the seeded players (top 16 entrants).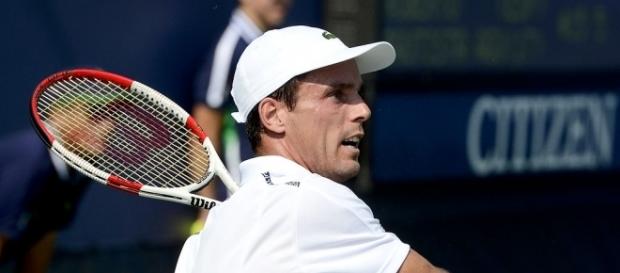 While most of the tennis world with be paying attention to the men's singles final from Cincinnati and then taking a break from tennis for a week until the 2017 US Open starts [VIDEO] there is a low-tiered event running in the American south. ATP Winston-Salem (The Winston-Salem Open) will run between August 20 and August 26. The tournament is part of the 250-level on the ATP Tour, meaning it's among the tournaments on the lowest-tier of tour events. The field is not overly competitive due to the fact that most of the top players will be resting in preparation for the 2017 US Open. However, Roberto Bautista-Agut, Pablo Carreno-Busta, and #John Isner are the top-three seeds in the tournament.
Bautista-Agut looks for 6th career ATP title
Bautista-Agut is the No. 1 seed. The Spaniard enters the tournament with five ATP titles to his credit and three of them on the hard-court surface. Carreno-Busta is at the opposing end of the draw and he has three career titles to his credit. Further, he is the defending champion at this year's Winston-Salem event, meaning he has a good feel for the conditions and the venue.
However, John Isner certainly looms large in the tournament field. The American has two titles in America so far this summer. Furthermore, Isner was in the late rounds of the Cincinnati draw where he played Grigor Dimitrov tight on Saturday before losing. There should be a question of fatigue for Isner following his efforts at the Western & Southern Open.
However, the American does have a first-round bye in Winston-Salem to help him recuperate.
Other players in the field
There are some players that do not have byes that may be a little below the radar. Andrey Rublev is one such player that looks to be worth watching. The Russian has a tour-level title this summer and that attests to his form at the moment. Ernests Gulbis is in the Winston-Salem event as a wild card as he looks to inject some momentum back into his career. Janko Tipsarevic is also in the tournament as a non-seeded player, the former top-ten player looking to re-establish himself on tour.
As for withdrawals, Kevin Anderson is listed as one on the tournament's official drawsheet. He was the fourth seed in the event before withdrawing, the draw listing a "Right elbow" problem on the sheet beside his name. He was playing well in recent events so his withdrawal does soften the field a little.
Although the tournament is part of the US Open series, unlike Cincinnati and Montreal, the players that do well at Winston-Salem are less likely to be factors at Flushing Meadows. Depending on whether a player has an opening-round bye or not it's five or six matches to the title with a Saturday final next weekend. With the US Open starting on August 28 players that go deep in Winston-Salem will face some scheduling issues as they prepare for the US Open. #Roberto Bautista Agut #Winston Salem