John Isner advances to 2017 Western & Southern Open semifinals
The American will face Grigor Dimitrov for a spot in the tournament's championship match.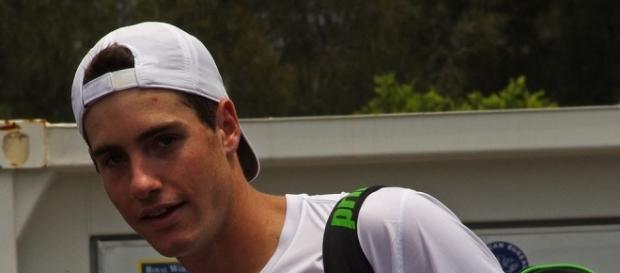 #John Isner has continued his spectacular summer season this week in Ohio. #The American, having previously won titles at Newport and in Atlanta, is two matches away from winning the 2017 Cincinnati Masters. Isner defeated Jared Donaldson in the Western &Southern Open's quarterfinals on Friday 7-6, 7-5. With the victory, Isner moves into the semifinals where he will face Grigor Dimitrov.
Isner has to be thinking "title"
Isner has survived a section of the draw that, at one point, had Alexander Zverev as the top seed. However, Zverev, probably very tired from his efforts in Washington and Canada, lost early this week. Isner opened his tournament way back on Sunday and has won four matches in the main draw including the one he played that day.
By and large, his tournament has already been successful. However with a draw through Dimitrov to the final, you would think that Isner has to be dreaming bigger at this point.
The American is one of the players that could enjoy a strong latter portion of the 2017 season on tour following the injuries that have bothered so many other key players. With his appearance in the semifinals, Isner projects to get back into the top 15 on Monday. The top ten appears to be a little out of reach, even with a title this week, however, the American could target those lofty heights with a good run at the US Open. Certainly, Dimitrov will not be easy to beat, but Isner is the hotter player on tour right now. Furthermore, the late rounds of so many big events over the years have featured much harder players than the Bulgarian.
At the age of 32, Isner has to be feeling as though the Cincinnati Masters might be his best chance to get a 1000-level title.
Isner/Dimitrov preview
The two players do not have an extensive head-to-head history. However, the one match that they played against one another has some similarities to the match that is upcoming. Isner defeated Dimitrov in Miami a couple of seasons ago in straight sets. Miami, like Cincinnati, is played on the hard-court surface in the United States. Both of these players are strong on cement, but Isner has a proven track record playing in front of home-country fans. All the titles over the year in Newport, Atlanta, and Winston-Salem show that he's most comfortable in the USA. Isner can't afford to look further than the semifinals but the big server does have a chance to win the title this week with David Ferrer, Rafael Nadal, and Nick Kyrgios alive on the opposite of the draw at the time of writing. Isner and Dimitrov will be on Center Court starting not before 2 pm on Saturday. #Western Southern Open