Why the Andrew Wiggins trade killed the Cavs' dynasty aspirations
Andrew Wiggins' length could have made a bid difference for the Cavaliers in the series vs. Warriors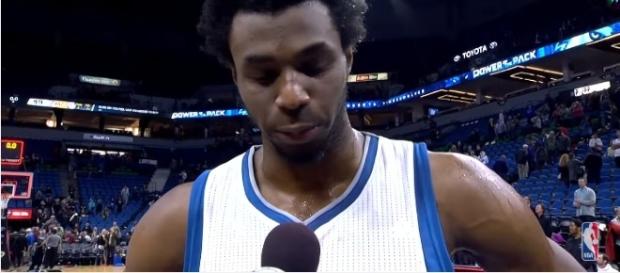 Once upon a time, the Cleveland Cavaliers traded away a youngling named #Andrew Wiggins for a win-now cornerstone player in Kevin Love. Three years after that trade, the Cavs found themselves tormented by that very same deal. To be clear, Love played a big part in the Cavaliers' dominance in the Eastern Conference. On the other hand, they could have been so good if they decided to keep Wiggins around.
Point of Contention:
Wiggins could have extended the Cavaliers' dynasty because of his versatility on both ends of the floor. The former no.1 overall pick possessed the tools - great wingspan and quick feet – to be a high impact two-way player even during his first year in the league.
Now, Wiggins is one of the most promising players in the league after averaging 23.6 points and 4.0 rebounds in 2016/17 season. He could have been a nice complementary piece to LeBron James and Kyrie Irving long-term, but the Cavs unfortunately made the deal for highly-efficient but flat-footed Kevin Love.
Backing it up:
It's all about the Cavaliers' ability to switch. In the finals, the Warriors exposed the Cavs' inability to guard perimeter players because they weren't so much two-way players. In fact, only LeBron James had the capability to make plays on both ends of the floor. Kyrie Irving was a beast offensively (29.4 ppg on 47 percent FG shooting) but he never played consistent defense on Steph Curry.
Then, there's the Kevin Durant effect. The All-Star wingman simply capitalized his mismatch with Love and Tristan Thompson at the power forward spot.
Love clearly couldn't guard Durant one-on-one out in the perimeter, and the Warriors ran the same plays over and over again in the five-game series.
Wiggins isn't an elite wing defender, at least not yet. However, his length would have provided a level of 'uncomfort' to Durant whenever he jack up a three-point or mid-range attempts. Kawhi Leonard wasn't an elite lock-down defender as he's now when he went head-to-head with LeBron and became a difference maker in the second Spurs-Heat finals series in 2014. Wiggins could have been that to Durant.
Author's Take:
Keeping Wiggins would have made all the sense for the Cavaliers in a long-term perspective as they could have at least have in insurance or someone worthy enough to succeed LeBron whenever he decides to stop playing hoops for Cleveland. The Wiggins-Irving combo post-LeBron era would have been fascinating to watch, but that might never happen in this lifetime. In the end, the Cavaliers bargain their future to win now, and the Wiggins-for-Love deal is haunting them now big time. #Cavaliers Rumors #Cavs free-agency