Jinger Duggar pregnant: Instagram shows Jinger, Jeremy Vuolo 'Counting On' baby?
'19 Kids and Counting' Duggar family 'Counting On' grandbaby from Jeremy, Jinger Vuolo: Jim Bob, Michelle Duggar mum on reality TV pregnancy reveal?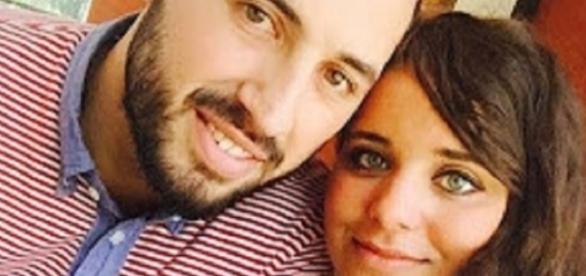 Is #Jinger Duggar pregnant? Fans wondered if Mrs. Jeremy Vuolo was showing off a baby bump on Instagram. A source told InTouch weekly that the "19 Kids and Counting" daughter is in her second trimester of pregnancy and due to deliver an early fall baby. So why have Jinger's parents Jim Bob and Michelle Duggar elected to stay mum if they are expecting a new grandbaby? Social media users are saying that pregnancy is private and folks shouldn't be sticking their noses in. But the Duggars of TLC's "Counting On" are very public. They share freely on Facebook and would normally gush over a baby. Rumor has it the pregnancy is being saved for a reality television reveal.
'Pregnant' Jinger Duggar raises debate
The new Mrs. Jinger Vuolo posted a cute picture with a friend on Instagram, and followers were pretty sure that they saw Jinger Duggar pregnant under her striped Oxford shirt. She was also wearing it loosely and untucked so that gave rise to pregnancy talk. The photos sparked over 4,600 likes and hundreds of comments and questions. Fans postulated that it was a baby bump or that she had eaten too many carbs. One even suggested that because the "19 Kids and Counting" Duggars are pro-gun, it was firearm holster "trimming" in the wrong places (whatever the heck that means). One claimed to see nothing and this was why weight-loss obsessed girls went on crazy diets, which confused everyone. Is Jinger Duggar pregnant? She didn't say.
Jinger Duggar's shotgun courtship
Mr.
and Mrs. Vuolo were married in November and their nuptials made national news on the "Counting On" episode that aired the wedding. The "19 Kids and Counting" Duggars practice Biblical courtship instead of dating to prevent pre-marital sex, shotgun weddings and divorce. Heeding the "marry in haste, repent at leisure" maxim, the parents, led by patriarch Jim Bob Duggar, guide the relationship. Jim Bob and Michelle prevent all intimacy (sans the side hug) by literally body-blocking the courting couple. But Jinger Duggar didn't always let mom and dad come between them. She did courtship her way and it was speedy even by secular standards.
Jeremy Vuolo talks family planning
Before the rumors that the "Counting On" couple was pregnant, they talked babies and their methods sounded very like family planning. They discussed letting God lead but also holding off on children. That made fans of the Christian reality TV show wonder if they were going to use birth control. Both Jinger and Jeremy assured social media that they want kids -- maybe not "19 Kids and Counting" but a big family! And then they made the fatal mistake of saying they hoped to wait a while. Now, anyone who's ever had kids knows that's the very best fertility treatment ever. Just the mention of wanting to delay pregnancy is the surest way to get pregnant! #19KidsandCounting #CountingOn