Chris Christie: the story of New Jersey's 'beached whale' in the Trump era
Conservative lawmakers such as Chris Christie are shamelessly controversial and defiant under the cover of Trump-era presidency.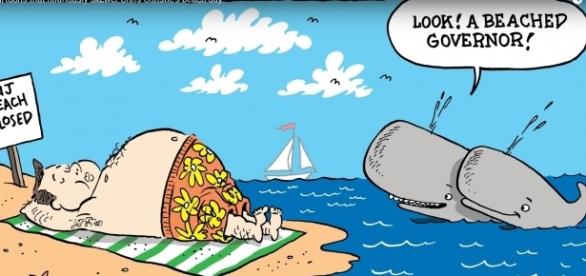 Last Saturday night, President #trump spoke at a rally at the Kennedy Center for the Performing Arts where he went after the media saying that he was the president and they were not. While it's curious how Trump thinks that the entire media could be elected president, Trump's response was to the criticism of his personal attacks against a media personality [VIDEO] that week on Twitter. In much the same way, New Jersey Governor #Chris Christie was defensive against attacks that he and his family were relaxing for the July 4 weekend at a taxpayer paid Mansion on Island Beach State Park that was closed by a government shutdown that he ordered.
Governor defiant against public consensus
When he was asked about this on Good Day Philadelphia on Monday morning, his response was that he was the governor and that everyone else was not.
Again, curious how Gov. Christie believes that an entire population could be governor, while also in blatant defiance of what is supposed to be the power of the people of New Jersey. But the governor was specifically under fire for being caught on camera, relaxing on a beach that was closed off to the public in pictures that have gone viral on social media. On Saturday, Governor Christie had a similar response on Saturday saying that that people who run for governor could stay at the beach house too.
On Monday, he continued with his reasoning saying that the mansion on the beach was a residence much like the governor's mansion which he said was also closed off during a government shutdown. The shutdown, however, was made even worse considering the fact that New Jersey's state-owned beaches and parks were closed for the weekend leading up to the July 4 holiday which went hand-in-hand with the Independence Day experience.
The U.S. Congress had also taken a week's recess from legislating which parallels the sentiment lawmakers and politicians -- like Christie -- find themselves in which is that they appear to be more relaxed amid endless controversies, under a Trump presidency.
Influence over Trump surrogate
Christie has also been a Trump surrogate and therefore he seems to have taken the same approach to his politics in stirring up controversy. In a similar way, he has also been targeted with lawsuits over scandals such as Bridgegate where he was accused of closing lanes in retaliation against a political opponent. Much like the lawsuits against Trump, Christie has escaped unscathed. As a sign of the seriousness of the Bridgegate scandal, some of Christie's aides were jailed for the scandal. Another matter of similarities between Donald Trump and Chris Christie was that Trump now stays at his golf resort in the same state on the weekends.
Governor Christie ordered the government shutdown when the state's legislature did not meet the deadline to pass a budget.
Making it even more complicated, the governor said that he would sign their budget proposal if they passed a bill that would reform the state's health care provider which stalled the bill for three days. The fight continues with Gov. Christie and Assembly Speaker Vincent Prieto, since it appeared that the Governor lost the fight to play hardball with the legislature. That is until Prieto would then blame Christie for going back on his word for the budget proposal he agreed to pass, dragging the fight out for the remaining six months of his term. #beachgate