Hawaii Congresswoman Tulsi Gabbard calls on President Obama to halt Dakota Access Pipeline
North Dakota Sen. John Hoeven has different stance, urging presidential approval, but Gabbard calls pipeline a 'threat to the great balance of life'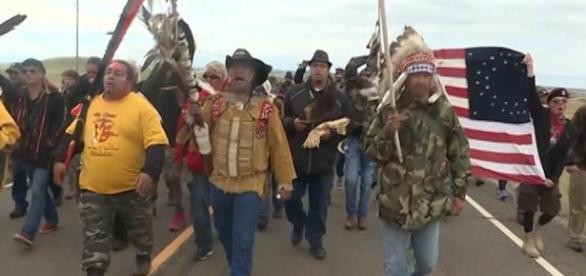 The battle over the #Dakota Access Pipeline is moving to the halls of Congress, with Hawaii Democrat #Tulsi Gabbard calling on President Obama to halt construction of the pipeline, while North Dakota Republican John Hoeven is taking a different stance and is urging the president to approve the final section of controversial project.
In a speech on the floor of the House of Representatives on Thursday Gabbard -- who is going to the North Dakota protest site this weekend -- called the pipeline a threat to the "great balance of life." In seeking presidential action, Gabbard also blasted the company building the pipeline -- Energy Transfer Partners -- saying that it has a 'history of serious pipeline explosions, which have caused injury, death, and significant damage in the past decade."
Gabbard joining protest
Gabbard is a military veteran with two tours of duty in Iraq behind her and is still a major in the Army National Guard.
She is going to the protest site at the Standing Rock Indian Reservation this weekend to join some 2,000 other veterans heading to the area in support of the hundreds of demonstrators who have been camped out for months trying to stop completion of the pipeline.
Hoeven urges president to approve the pipeline
Meanwhile, in a speech on the floor of the Senate, Republican John Hoeven told his colleagues delays in approving the final leg of the pipeline are to blame for the unrest and recent violence at the protest.
"The ongoing protest activities – which at times have turned violent – are being prolonged and intensified by the Obama Administration's refusal to approve the final remaining easement at Lake Oahe," Hoeven said in his speech on Wednesday. "This inaction has inflamed tensions, strained state and local resources, and, most importantly, is needlessly putting people at risk – including tribal members, protesters, law enforcement officers, construction workers, and area residents – our farmers and ranchers who live in the area."
Other members of Congress have also jumped into the fray, with Vermont Sen.
Bernie Sanders calling on President Obama to stop the pipeline, while New Jersey Sen. Cory Booker is seeking a federal investigation into tactics used by police against demonstrators.
We cannot afford to wait. President Obama: Stop this pipeline. #NoDAPL https://t.co/tcrpAY1bjJ

— Bernie Sanders (@SenSanders) November 28, 2016
Winter weather hitting Standing Rock
As the controversy heats up in Washington, D.C., winter is setting in at Standing Rock, with snow covering the ground and overnight temperatures dropping into the teens. North Dakota Gov. Jack Dalrymple ordered a mandatory evacuation of a portion of the protest area, claiming that protesters would be endangered by the winter weather and that authorities might not be able to provide emergency services. The governor has since clarified his order, saying no protesters would be forcibly removed and also dispelled rumors that police were blocking supplies from being brought in.
Ace Hardware has even been dragged into the pipeline controversy, with rumors spreading that its local stores, upon police orders, were refusing to sell propane canisters to protesters. But Ace issued a statement from its corporate headquarters on Thursday saying that local stores had propane canisters in stock and that there was no ban on any of its products.
#NoDAPL