Shinzo visiting Pearl Harbor thoughts go to Emperor Hirohito who escaped war criminal tag
Rate this title
The clock has turned and the architect of the Japanese empire Hirohito escaped the hangman's noose due to the the USA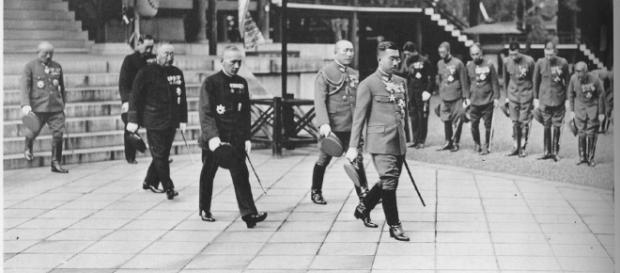 Japanese prime minister Abe Shinzo is visiting Pearl Harbor after the 75th anniversary of the famous attack by the Japanese fleet commanded by Admiral Nagumo. Shinzo's visit will be a first by a Japanese PM but it will remind many that on 7th December the Imperial fleet struck Pearl Harbor and almost decimated the American fleet, killing over 2000 personnel. The planned visit will be along with president Obama on 26/27 December this year.
Emperor Hirohito
The man at the head of the Imperial government when the infamous attack took place was Emperor Hirohito. He was the temporal and political head of the Japanese empire and for the Japanese, he had a divine connection.Despite the opinion of many apologists, the Japanese emperor supported the war.
There is no paper or note at any time, that the emperor had opposed the war. After the war in an interview, he had stated that had he not given his assent at that time he would have been assassinated. This is a bizarre statement and to be taken with a pinch of salt. The statement of General Hideki Tojo the Japanese prime minister at the Tokyo war trial in 1946, brought out that any decision on war or any other matter was unthinkable without the approval of the emperor.
Culpability
Hirohito was squarely a party to all the atrocities committed during the war. The massacres in China and attacks on Pearl Harbor had his approval, yet he was let off without even a rap on his knuckles. The reason was the emergence of the Soviet Union, which had gobbled up the entire East Europe. The Americans needed an ally in Japan and the best way forward was to spare Hirohito the hangman's noose and make him and Japan beholden to the USA.
The ploy worked and Japan firmly became an ally of the USA and the emperor escaped the tag of being a war criminal.
Future
In 1946, the USA needed Japan as an ally and now Japan needs the USA as an ally against China. The clock has turned a full 24 hours. Japan cannot face China alone and alongside a threatening Korea, the need to placate the USA is paramount. One can see that as the background to Shinzo being the first leader to meet Donald Trump.
Click to read more
and watch the video
or