Russian Ambassador to Turkey assassinated by 'lone wolf' over Syrian conflict
Rate this title
The killing of Russia's Ambassador to Turkey in Ankara is said to be an attempt to further strain relations between Turkey and Russia over Syria.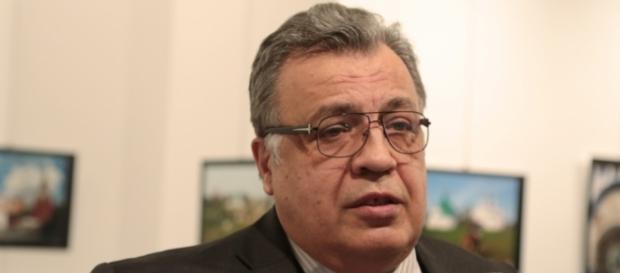 "God is great! Don't forget Aleppo, don't forget Syria!" The man shouted after assassinating Russia's ambassador to Turkey at an art exhibit in Ankara Monday evening. The ambassador (Andrey Karlov) was at a podium at the event when he was shot from behind by a man dressed as a police officer. The gunman reportedly wounded at least three other people during the shooting. The assassin was kiled in a shoot out with Turkish Special Forces. The shooter's message is seen as somewhat related to the issues between Russia and Turkey over Syria, as Turkey does not support the Assad regime while the Russians help to keep him in power. Over the last week, Syrian and Russian forces have taken the majority of Aleppo, reportedly killing innocent civilians while the U.S.
and United Nations (U.N.) try to help evacuate residents and provide humanitarian aid, often in conflict with the Syrian forces.
Tension between Russia and Turkey
One report by the New York Times says that this incident has "instantly vaulted relations between Turkey and Russia to a new level of crisis," which is seen as a second incident to flare up tensions between both countries. The first being the shooting down of two Russian fighter planes earlier this year by Turkish forces. Since the downing of the fighter planes, Russian President Vladimir Putin and Turkish President Erdoğan seemed to have made up, as a gesture of unity against the U.S. who had been unwilling to work with Russia to defeat ISIS in in Syria under President Obama.
According to some reports however, Erdoğan called Putin soon after the shooting to provide him with details, and U.S.
Secretary of State John Kerry has said that the U.S. is willing to assist in the investigation. So far, according to two security sources, it was discovered that the assassin was an officer for the Turkish riot police and was not on duty. The Turkish Foreign Minister Mevlut Cavusoglu said the attack would not strain relationships between Russia and Turkey. They are apparently still set to meet with Russian and Iranian counterparts in Moscow on Tuesday to discuss the war in Syria.
"We regard this as a terrorist act"
Gunman who killed the Russian ambassador to Turkey in Ankara was off-duty police officer, a Turkish official says https://t.co/rVGstH5mVp pic.twitter.com/6NuSXEbB20

— CNN Breaking News (@cnnbrk) December 19, 2016
A spokeswoman for the Russian Foreign Ministry called the shooting a terrorist act and said that they will fight it decisively. Currently, it is unknown if the shooter was associated with a terrorist group, whether it's the Islamic State or another group taking credit for other attacks throughout the country.
Thus far its been suggested that the shooter was a "lone wolf." In July, Erdoğan claimed that the opposition had staged a coup in trying to oust him, and has since been cracking down on what he claims is dissent, mostly blaming a former ally Fethullah Gülen for it.
President Erdoğan has shut down press organization, arrested journalists and anyone who might have been identified as being against the government. Reuters says that there are renewed concerns about the police force being purged, similar to the crackdown. Other reports point out that this is the first time since 1971 that a diplomat was assassinated in Turkey. But according to the Hurriyet Daily (who were present during the assassination and took images of the scene), they say that Ankara has always been seen as a safe capital for statesmen, diplomats, and ambassadors, and that Karlov did not have any bodyguards with him when he was killed.
Click to read more
and watch the video
or