Kerry tells his Israeli friends the hard truth, Netanyahu condemns his words
John Kerry angers Benjamin Netanyahu after addressing the Israeli-Palestinian crisis for a final time.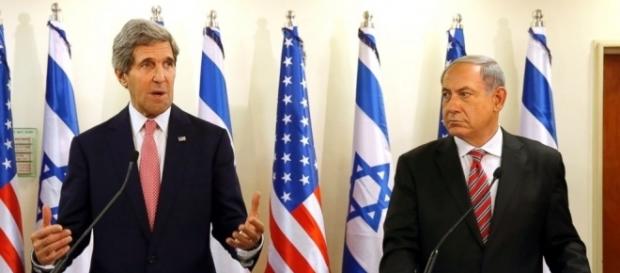 Secretary of State John Kerry took the stage yesterday in the State Department's auditorium to give his final speech on the Israeli-Palestinian crisis. This has been an issue that has followed him closely during his time as Secretary of State. It was a final attempt to warn the Israeli friends about the path they were taking. In his speech, he advocated the need to "save the two-state solution" and reject the Israeli settlements in the West Bank and East Jerusalem. According to John Kerry, it is Prime Minister Benjamin Netanyahu who is impeding peace in the Middle East.
The UN resolution against Israel
The U.S. abstained from voting last week in the United Nations Security Council that ended with an overwhelming majority, 14-to-0, censuring Israeli settlements.
"We did not take this decision lightly," said Kerry. He continued, "Israelis are fully justified in decrying attempts to delegitimize their state and question the right of a Jewish state to exist. But this vote was not about that. It was about actions that Israelis and Palestinians are taking that are increasingly rendering a two-state solution impossible."
Kerry's last attempt
Kerry voiced his concern for the extremist position Israel was determined to take. "The status quo is leading toward one state and perpetual occupation," he stated. He added that American allegiance was also to its principles. "Some seem to believe that the U.S. friendship means the U.S. must accept any policy, regardless of our own interests, our own positions, our own words, our own principles — even after urging again and again that the policy must change," he affirmed.
Kerry's message was as clear and brutally honest as ever. "Friends need to tell each other the hard truths, and friendships require mutual respect," remarked Kerry.
Netanyahu's response
Israeli Prime Minister Netanyahu only had words of reproach against Kerry's speech. In a video statement, he went on to say that "the secretary of state attacks the only democracy in the Middle East." Netanyahu proved to be disappointed and hurt by Kerry's words. He called his speech to be "unbalanced" and "obsessively focused" on settlements.
Donald Trump spoke his mind on the Israeli-Palestinian issue before Kerry's speech with a Tweet. "We cannot continue to let Israel be treated with such total disdain and disrespect," he wrote. Netanyahu has a reason to be looking forward to 2017.