Jet Airways plane accident at Dabolim Airport Goa, India - injuries
Rate this title
A passenger plane bound for Mumbai, India did a 360-degree spin and veered off the runway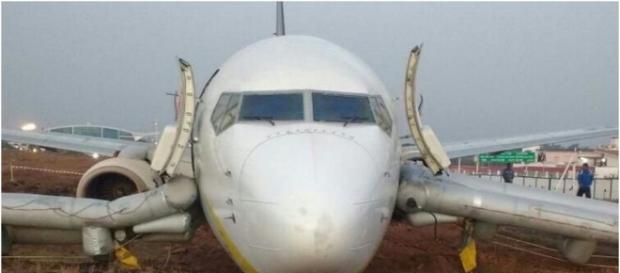 Jet Airways which operates domestic and International flights in India gave more than 160 people on board a flight to Mumbai a scare when a passenger plane did a 360-degree spin and veered off the runway at Dabolim Airport in Goa.
NDTV reported that 15 people were injured during the plane accident - or during the evacuation procedures. There are however no fatalities reported, and according to officials, there are some suspected fractures.
Jet Airways issued a statement about the plane accident
The incident took place when the plane was taking off from the airport on 27 December. Jet Airways issued a statement via social media on the incident.
Jet Airways Statement with regard to flight 9W 2374 from Goa – Mumbai: pic.twitter.com/Vhb7atP8Z6

— Jet Airways (@jetairways) December 27, 2016
Some injured passengers on the flight taken to hospital
The plane was carrying a total of 161 people and the relatively minor injuries have either been treated at the airport or transferred to a local hospital. The remaining passengers will be reallocated other flights. The incident happened just two days after bad foggy weather interrupted scheduled flights into Goa on Christmas day
#TravelUpdate: Due to adverse weather at #Goa (fog) some of our flights are affected. Please check your #FlightStatus.

— Jet Airways (@jetairways) December 25, 2016
In the meantime, the airport has been closed until 12.30 pm and authorities will be investigating the incident.
Photos emerging of plane accident
Staff at the Airport managed to get some photographs and these were posted up on Twitter. They seem to indicate that the undercarriage may have collapsed which caused the pilots to abort the takeoff. Hindustan Times reported that "Cellphone shots taken by airport staff showed that the aircraft's landing gear had completely collapsed, as it sat on its fuselage (body) stuck in the mud. Some pictures also showed passengers being rushed on stretchers for medical help."
JET AIRWAYS flt whilst take off fm Goa Naval Air Station aborts t/o. 154 pax evacuated safely. Runway 2be usable by 0900h @SpokespersonMoD pic.twitter.com/t8v2tOgtyJ

— SpokespersonNavy (@indiannavy) December 27, 2016
Dabolim Airport in Goa
Dabolim Airport is the only airport in the state of Goa, and is just outside the town of Dabolim in Goa, India. It is a place where civilian airlines can operate although it is within a military enclave airbase named INS Hansa. In October 2016, a near miss was reported in Goa when the airport radar was down. Two planes nearly collided. The December incident is another tragedy averted and thankfully, no lives were lost in either incident.
Click to read more
and watch the video
or