Japanese PM Abe Shinzo to visit Pearl Harbor and bring back memories of WW II
Rate this title
The visit on 26/27 December along with Obama will expiate the sin of the attack in the light of the Japan-USA alliance now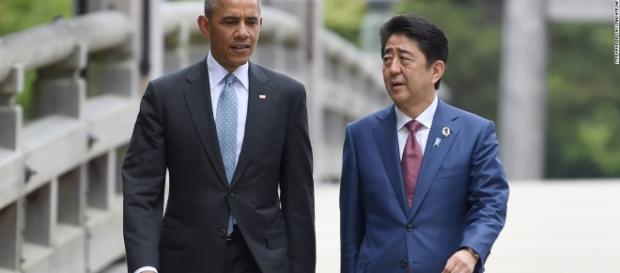 Japan's prime minister is to make history by visiting Pearl Harbor along with President Obama on 26/27 of December this year. It will be the first-ever visit by a Japanese leader in active service who has ever visited Pearl Harbor. The visit symbolizes the changing world geopolitical outlook and a far cry from the days when the Imperial Navy and the US battled it out in the Pacific.
Perceptions of the attack
December 07 is a red-letter day in the history of World war II. This year it will be the 75th anniversary of a massive attack by the Imperial Navy on the US Navy installations at Pearl Harbor. Even now the Japanese are not apologetic about the attack, and the men who died in the attack are revered as heroes.
The Japanese view is still to blame the USA stating that the attack was provoked by an American embargo on oil that had crippled the Japanese empire.
Importance of visit
The visit of the Japanese PM never the less is an event of great importance. It means that the hatchet is buried forever. This visit comes after President Obam trod fresh ground by visiting Hiroshima, the target of the first Atomic bomb attack. Nearly a 100,000 died in the attack compared to about 2000 deaths during the Pearl Harbor attack. The US veterans have hailed the visit and feel that old times are over as US and Japan are allies.
The US veterans have hailed the visit and feel that old times are over as US and Japan is an ally. They feel that it is not necessary for Abe to apologize for the attack.
Abe will visit Pearl Harbor, but it is only after Obama had visited Hiroshima.
For the Japanese involved in a struggle with China, an alliance with the USA is of paramount importance. In fact, the Japanese and Chinese empires have been antagonistic to each other for over a thousand years right from the first invasion by the Chinese which was destroyed by a "divine wind."
Future
The Japanese lay great stress on relations with the USA. Donald Trump has been making some off the cuff remarks against Japan. This has prompted the Japanese PM to be the first to meet Trump in New York. Maybe it was an attempt to placate him.
Click to read more
and watch the video
or