Istanbul rocked by dual explosion, killing 38, and injuring 155 people.
Rate this title
Another brutal terrorist attack rears its ugly head in Turkey late Saturday night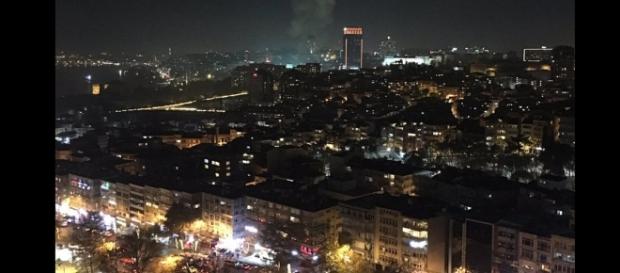 A true tragedy struck the people of Turkey late Saturday night in central Istanbul. Around 11:00 pm local time two explosions occurred back-to-back after the conclusion of a local soccer meet. The first explosion was said to be a car bomb outside of the Besiktas stadium, the second was less than a minute later by a suicide attack at Macka Park. It is believed that The PKK is behind the bombings.
An Inhuman Terror Attack
Suleyman Soylu, the interior minister announced on Sunday during a press conference that among the thirty-eight dead they were mostly police officers. Reports say that the blast targeted a police riot bus.
The current statistics say that thirty were police officers, seven were civilians, and as of now one person remains unidentified. The police have so far detained thirteen people who they believe to be suspects in the incident."It is thought that it was a car bomb at a point where our special police forces were located, right after the match at the exit where Bursaspor fans left, after the fans departed," the Guardian quoted Soylu as saying. The government says initial findings point towards Kurdish militants, who have targeted police in the past.
At least 13 people killed by a huge car bomb in 'inhuman terror attack' at the Besiktas football stadium in Turkey https://t.co/i0N8TUjlqm pic.twitter.com/DkeknLAVpx

— SitiBe (@sitibedotcom) December 10, 2016
Health Minister Recep Akdag said among the 155 injured, seventeen are currently undergoing surgery, at least six are in intensive care and thankfully twenty have been discharged so far.
Turkey In Chaos
Turkish President Recep Tayyip Erdogan weighed in on the situation."a terrorist attack has been carried out against our security forces and our citizens. It has been understood that the explosions after the Besiktas-Bursaspor football game aimed to maximize casualties. As a result of these attacks, unfortunately, we have martyrs and wounded," and "We have witnessed once more here in Istanbul the ugly face of terror which tramples down any form of value and morals"
VIDEO: Footage of the second explosion in #Istanbul followed by heavy gunfire - @SHAWSHANK5 pic.twitter.com/JrvJEgmohY

— Gissur Simonarson (@GissiSim) December 10, 2016
Twitter has been erupting with tweets of people in the area of both explosions. The numerous videos of the bombings and reactions from first responders paint a truly horrifying picture. Turkey has been targeted for several attacks this year and its unstable government standing is nothing new to the people of Turkey and those following terror threats. Thoughts and prayers go out to the people of Istanbul.
Click to read more
and watch the video
or